Hi everyone! I'm so happy that you dropped by our Squirrel Gone Nutz Blog Hop! If you have been following along, you have just come from the lovely and talented Bory! For those that are new to my blog and the hop, we are a group of crafting friends who decided to host this hop to showcase each other's talents and to encourage each other to use crafty stash that we haven't used in a really long time or that we have "squirreled away"!
This month's technique is Stenciling and the theme is to create a gender neutral project. I decided to go with a holiday card. This card was inspired in part by Jessica Frost-Ballas' wonderful project at the recently concluded Hero Arts Holiday Stamp Along.
In Jessica's project, she did not use a stencil, her technique was ink-blending & heat-embossing. I was so inspired by the look and feel of her shaker card project, I wanted to try and achieve the same look but ink smooshing the background color and using a stencil instead of heat embossing.
First, I pressed the following Hero Arts reactive ink pads, Blue Hawaii, Thistle & Splash onto my glass mat. I spritz it with water then taking a watercolor paper panel, began to smoosh it down onto the mat – applying heat from my heat gun between smooshing.
After the panel was dry, I used the Hero Arts Shooting Star stencil and applied Fallen Snow Glitter Paste from Brutus Monroe on top of the stencil using a small palette knife. I've had this stencil in my stash and this was the first time I used it on a project.
Then after it dried, I splattered some Silver Glimmer Ink and Irridescent Ink. I then die cut a panel with the Very Merry Christmas cover plate using an old some textured paper from my stash which I've had for a loooong time!
I adhered the some acetate to the back of the die cut panel and added thin strips of foam adhesive in the back. I then added a icicle sequin mix and then removed the backing of the foam tape before adhering the stenciled background.
I could not let the negative pieces go to waste so I decided to use it on another card. I ink smooshed another backgorund using the same color inks as my first one.
I don't have many Christmas themed stencils so I decided to use another never before used one which I have had in my stash for what felt like forever. This is the Hero Arts Spiral Petals stencil. I used the same inks, Blue Hawaii and Thistle to tint the glitter glaze. I used a rubber palette tool to smear it on the ink smooshed background in a random pattern.
To add dimension to the letters, I took some light blue craft foam and die-cut it with the same Very Merry Cover die. I left the die cut craft foam on the cutting plate, then adhered the cardstock letters on top with some liquid glue.
After adhering each letter, I flipped the craft foam and added dots of liquid glue to each and every letter before placing the ink smooshed background on top. Then I flipped it over again to it's right side and carefully removed the positive piece of the craft foam leaving behind the perfectly spaced letters.
Then i took some iridescent spray, sprayed it onto my craft mat, picked up some of it with a paintbrush and splattered it all over. After it dried, I cut it down and added it to a card base.
What I love about these cards are that they were fairly quick and easy to make. You can basically take any wintry or christmas themed background and adhere the die cut Merry Christmas cover plate on top! And the use the negative pieces for another card. I can totally see myself making more of these in the future!
I will be linking these project to the HERO ARTS STAY CRAFTY CHALLENGE – STENCILING.
Next on the hop is wonderfully talented V Fairchild!
'Til next time!
❤️
Anna
Thank you for visiting my blog. You can also find me on Instagram, YouTube, Pinterest and Facebook.
BLOG HOP LIST:
Anna Mahtani – you are here!
PRODUCT LIST: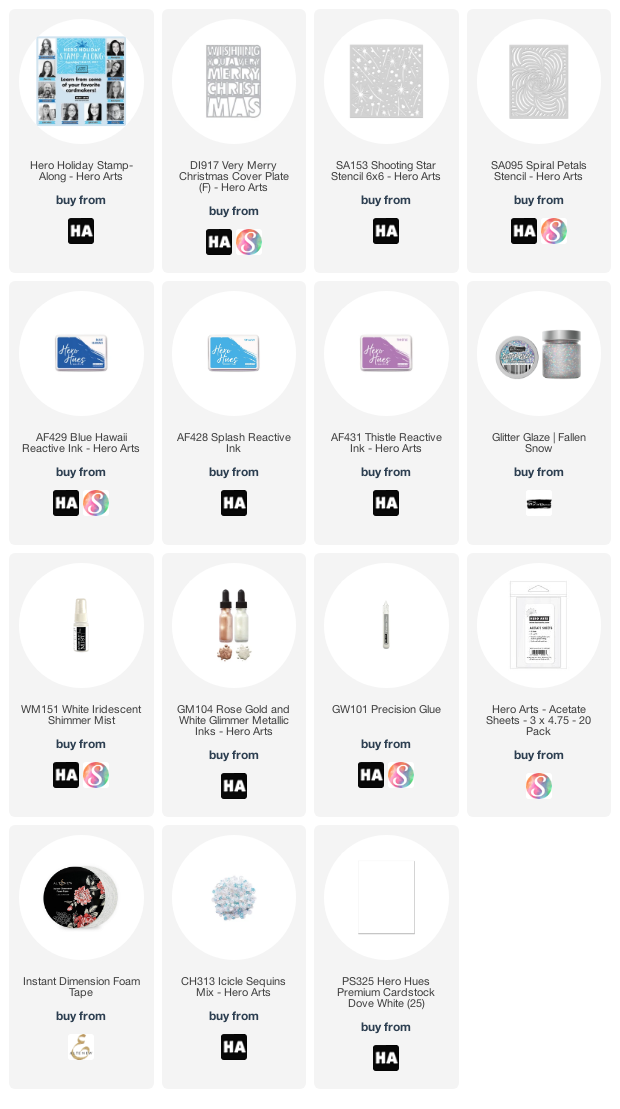 Note: I am affiliated with some online stores including Altenew, Hero Arts, Concord & 9th, Scrapbook.com and Trinity Stamps. If you use any of the links above, I get a small commission from these wonderful shops at no extra cost to you. Thank you so very much for your support! I truly appreciate it!