Hi! Today is a special day because we celebrate an anniversary of one of my crafty friends. We are celebrating with an Instagram hop and a giveaway! If you would like more details on the hop, you can start here over at Anne-Laure's Instagram account. The hop goes on until April 3.
To celebrate her anniversary, I created this really cute and functional laminated bookmark. I am using the Hero Arts My Monthly Hero March 2021 kit which is reading themed! I am an avid reader and so are my kids so this is right up my alley! As of this writing the kit is still available, so if you are interested, grab it while you can!
I also created a video which I will link right below. Hope you can drop by and watch! And while you are there, I would be so happy if you subscribed as well!
I took one of the bookmarks that came in the kit and die cut a small window using one of the dies from the Hero Arts Nesting rectangles inifinty die set.
To create the background of my scene, I masked off the bottom part just under the window with some washi tape. I took Scattered Straw Distress Oxide Ink and a blending brush and did some quick ink blending. I purposely made the blending a bit uneven in some areas to give the background some texture.
For added interest, I took a stencil from Simon Says Stamp called Dotted Zig Zags and used the same color of Distress Oxide to blend in the pattern.
Before I ink blended the floor of my scene, I masked off the upper part with the same piece of washi tape. I used Gathered Twigs Distress oxide for ink blending. I didn't do anything special with the ink blending here, all I did was concentrate the color towards the upper part of the floor slowly fading out to the bottom.
To create a wooden texture, I took a dark brown marker – here I am using Zig Clean Color brush markers and scribbled on some lines on the frame. Then took a medium color and added more scribbles. I used an even lighter brown to soften the lines to blend it all in.
Now it's time to assemble my scene. First I adhered the rug, which came from another My Monthly Hero kit, I believe it was the November 2019 one. I stamped all the images off screen with Hero Arts Intens-ified black ink, and colored them with Zig Clean Color brush markers. Whenever I receive a new kit, I usually stamp all the images and color them in so I can use them for future projects and it also encourages me to use my kits and not keep them stashed away, never to see the light of day!
After I finished creating the scene, I noticed that the back was a little messy so I used a scrap of cardstock slightly bigger than the bookmark and die cut the same size opening and glued it to the back of the bookmark. Then I used my scissors to cut of the excess cardstock sticking out from the sides.
I took my laminator and set it at #4. After heating it up a little, I placed my bookmark in between laminating sheets. I took a folded scrap of paper and place it at the top of the laminating sheet before I fed it in. I learnt this trick from Jennifer Mcguire.
I trimmed the excess plastic using my paper trimmer. I just made sure to leave about 1/8th of an inch on the all the sides of the bookmark. I will punch out the hole on top, fussy cut the fishtail and then add some twine.
I hope this project inspired you to create some bookmarks with whatever you have in your stash! And I hope you can join our little IG Hop celebration!
'Til next time!
❤️
Anna
Thank you for visiting my blog. I truly appreciate it! You can also find me on Instagram, YouTube, Pinterest and Facebook.
PRODUCTS: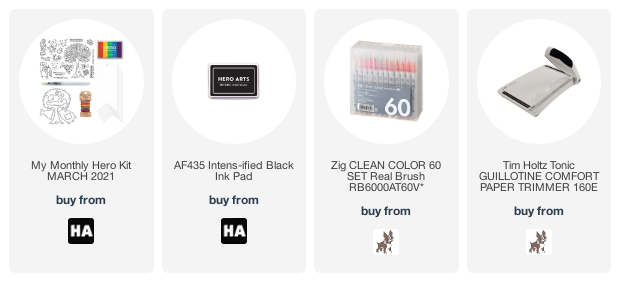 Note: I am affiliated with some online stores including Altenew, Hero Arts, Brutus Monroe, Concord & 9th and Trinity Stamps. If you use any of the links above, I get a small commission from these wonderful shops at no extra cost to you. Thank you for your support!