Hi everyone! Welcome again to our monthly Squirrel Gone Nutz blog hop! For those who are new to this hop, we are a group of "nutty" ladies who took on the challenge of looking deep into our stash to use up supplies that we have squirreled away! This month is all about green and using specialty papers in our project inspiration. If you have been hopping along, you have just come from the talented Lounon!
I looked in my stash and all of a sudden realized that I didn't have much to choose from. I don't really use specialty paper in my crafting so I had to look even deeper! I have this stack of foiled vellum that is probably around 4 years old. I've only used it a couple of times in my crafting. Why? Because it's so precious, I haven't quite found anything like it anywhere. But then again, the point of this hop is to use those hardly used items.
The inspiration for my plant card was from this new hobby of mine – gardening! One of the blessings that came with this pandemic is that I found a love for gardening. My teenage daughters did too. We would spend a few hours everyday in our little pocket garden.. it felt good to connect with the soil. I always thought I didn't have a green thumb – but soon discovered that I did have it in me! Of course, I had some help from a friend and Mr. google!
Now, onto the card, I used the foiled vellum as an accent on this card to "anchor" my pot of plants. The beautiful plant is from the Monstera Die by Altenew. I cut the leaves out of some leftover ink-smooshed backgrounds I had in my stash. I used a scrap of gold cardstock to cut out the accents on the leaves which is part of the die set. The pot is the same gold cardstock and kraft cardstock for the base.
I embossed the background panel with the Altenew Organic Linen embossing folder and used green cardstock for matting. I used a blending tool to lightly ink blend with green ink. To add some extra detail, I swiped a gold pigment ink pad on the sides on the embossed background and did the same on the green cardstock.
The sentiment is from the Best Sentiments stamp set gold heat embossed with Antique gold embossing powder.
This card is going out to that friend of mine who lent me her expertise in gardening. She will get a kick out of this card as the Monstera plant is one of her favorites.
If you don't have foiled vellum, you can always heat emboss a design on regular vellum. I am determined to use up my foiled vellum so don't be surprised if you see it in another of my projects!
Next on the hop is the lovely Bory! Hop on over to her blog and give her some love!
'Til next time!
Anna
Thank you for visiting my blog. I truly appreciate it! You can also find me on Instagram, YouTube, Pinterest and Facebook.
FULL HOP LIST:
Anna Mahtani (you are here!)
PRODUCTS: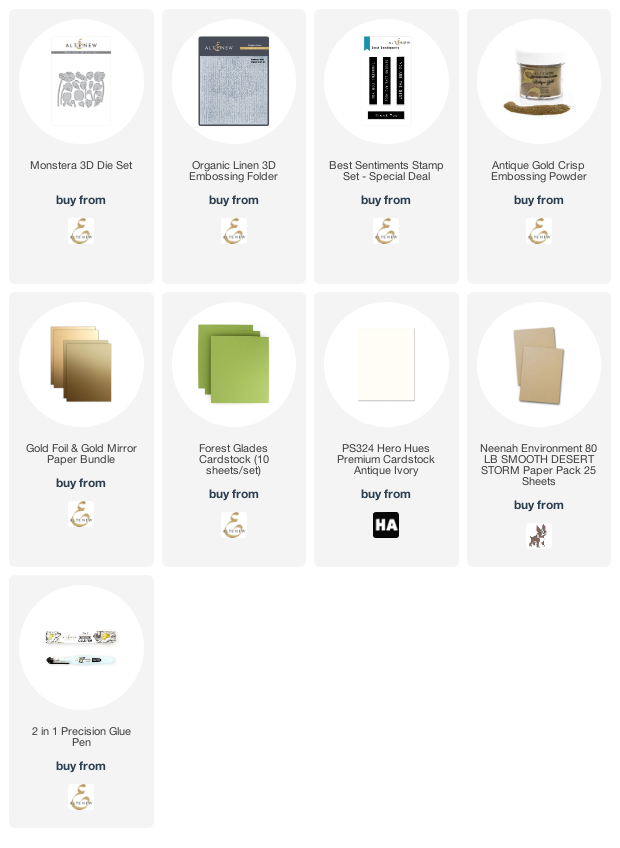 Note: I am affiliated with some online stores including Altenew, Hero Arts, Brutus Monroe, Concord & 9th and Trinity Stamps. If you use any of the links above, I get a small commission from these wonderful shops at no extra cost to you. Thank you for your support!