Hi Everyone! It's that time of month again when we are hopping along with our crafty friends! If you are following on in the hop, you have just come from Lounon Riviere's creative blog. If you are new to the hop, this is organized by my crafty squirrel sisters and I to uplift and support fellow makers and encourage the use of our supplies that we hardly ever use or we squirrelled away!
The theme of our hop this month is Thankful and/or a shiny element. I have a lot to be thankful for and one that I am thankful for are my crafty squirrel sisters, Karen @misplacedmojo, Virginia @passionsanddistractions and Marie @anothercardmaker. They have all been so supportive of me and all my shenanigans haha! I count myself extremely lucky to have them in my life.
I also wanted to try something a little different. I wanted to see if I could add foiling to a mixed media card. I am currently on Level 3 of the Altenew Academy AECP program and one of the classes I am taking is Demystifying Mixed Media with the wonderfully talented Tania Ahmed. This hop is absolutely perfect to break out all my foiling supplies and give it a whirl! I have had my Minc foiling machine for about two years and I had only used it once to experiment. It didn't quite come out the way I wanted so I set it aside meaning to come back to it, but never did til now.
For this first card, I will be using the Sketched Lines stencil from Altenew to create the foiling element for my background. To prep my card base, I applied a thin film of gesso so that the coloring mediums would stick to cardstock paper. Then I left it to dry.
After applying a thin film of gesso, I took the watercolor brush markers from the Spring Garden set and squeezed some of the Dusk and Emerald pigment onto my glass mat. I spritzed the pigment with a little water to dilute it, then with a brush I picked up the pigments and painted it liberally onto the prepped card base, not really taking care of making it neat and even.
I then spritz the left over pigment with irridescent shimmer spray and pounced my card base on top, drying between layers.
Then the fun part, I took the Sketched Lines stencil and laid it on top of my painted panel. I used the Deco Foil transfer Gel and with my small palette knife, smeared it on top of the panel. I did not cover the whole panel, just a section of it. I purposely wanted to keep the gel uneven on the panel to give it a more distressed look. I removed the stencil – cleaned it off right away and left my panel to dry overnight.
When the transfer gel is clear, then it is ready to foil using a laminator machine. Each machine has a different setting depending on what you plan to foil but in my case, I am using a Minc and the machine setting was set to #4. While waiting for the machine to heat up, I placed my card panel between a folded sheet of copy paper. I placed a piece of cardstock below the panel as a shim. For this design I decided on a silver foil which I placed on top of the painted panel shiny side up. When the light on my machine stopped flashing, I fed the copy paper foiling sandwich into the machine on the folded side.
This was my first time trying this technique I was absloutely blown away by the result!! It was so beautiful! Now I'm going to have to foil all the things! One thing I had to bear in mind for the future, because my painted background is textured and had several mediums on it, the foil stuck to them. But I liked how it looked though!
I cut down my panel to a 4″X 5.25 size then with Altenew Obsidian Ink, I stamped sentiments from the Happy Heart stamp set on the sides of the panel. I used an acrylic block and purposely did not make it even. I used the Jet Black Ink spray for the splatters. Then this is where I "foiled" my project! I was too impatient that I proceeded to ink blend the sides using Galactic Stream Crisp Dye Ink, without checking if the ink splatters were dry. So they smeared! Sigh.. But if there is one thing mixed media has taught me — embrace the imperfections! And that I did!
To "hide" the big smeary blob on the left side, I used a flower from the Wonderland stamp set and stamped it with Obsidian Black Ink. I kept the design element quite simple as there was already too many things going on with the card. I die cut the Fancy Thanks from Silver mirror cardstock. I also die cut the same sentiment twice with black cardstock and slightly off set it to create a bit of a shadow on the sentiment.
There is something quite liberating about mixed media. I am so glad I embraced the imperfections and decided to go with it. There are many wonderful techniques to learn over at the AECP Demystifying Mixed Media that you may want to give it a try!
Next stop on the hop is the super talented Yvette Olea of Yvette Olea Creates. Have fun hopping along with us!
'Til next time!
❤️
Anna
Thank you for visiting my blog. I truly appreciate it! You can also find me on Instagram, YouTube, Pinterest and Facebook.
Materials used: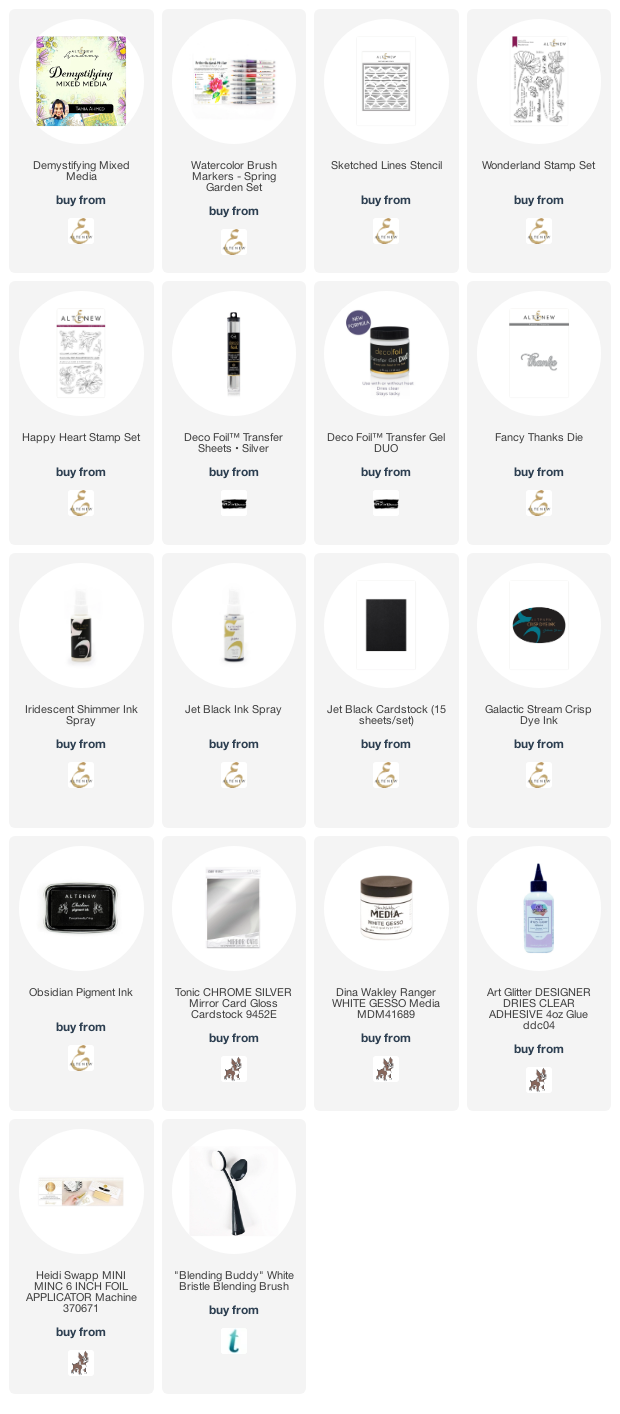 Note: I am affiliated with some online stores including Altenew, Concord & 9th, Hero Arts, Brutus Monroe and Trinity Stamps. If you use any of the links above, I get a small commission from these wonderful shops at no extra cost to you. Thank you for your support!