Hi! I've been absent from my blog for awhile now as I just got back from a month long vacation visiting family in Spain. I must admit it's been a little hard getting back into the groove of things 😉
The project I want to share with you today is from the Altenew Academy Celebration: Stencil Techniques taught by the talented Laurel Beard.
For this card, I used the Altenew Sketched Lines stencil, applied ink to create ombre effect using all the grays from the Altenew Gentleman's Gray ink collection. I supposed I could've just used one gray ink and just gradually blended it, but this was easier for me! This way I didn't have to think about blending and just applying the colors thru the stencil from darkest to lightest.
I cleaned the stencil with a soft microfiber cloth. To give it a textured effect, I re-attached the stencil then smeared silver Nuvo embellishment mousse with a palette knife. I did not fill up all the holes, just smearing it here and there leaving some gaps so the gray ink will show. After doing this, I removed the stencil and washed it off right away with warm soapy water. I then set it aside the card panel to dry.
After the panel was dry, I matted it with dark gray cardstock and mounted it on a 4.25″x5.5″ white card base. The elements I used to embellish my card is from the Leaf Clusters stamp set which I die cut from silver and dark gray cardstock.
For the sentiment, I used the round "Thank You" from the Altenew Many Thanks sentiment stamp set and matted it on silver card stock.
Here are the close ups of my card to better appreciate the stenciled embellishment details.
If you are new to using stencils or even if you are an expert, this class is perfect for you to learn new techniques or just to refresh your knowledge. There are also additional technique classes at the Altenew Academy which you can check out.
Hope this project inspired you!
'Til next time!
❤️
Anna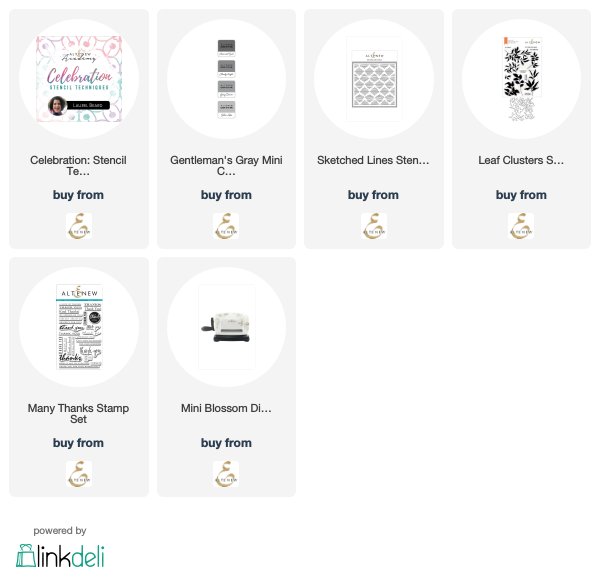 Disclaimer: I am affiliated with some online stores including Altenew, Concord & 9th and Hero Arts. If you use any of the links above, I get a small commission from these wonderful shops at no extra cost to you. Thank you for your support!