Hi! If you are following along on the hop, you have just come from the wonderful V Fairchild! I will also have the hop list listed at the end of my blog post just in case you get lost along the way.
We have a wonderful blog hop theme this month – Stitching with Thanks! I tell you it's been awhile since I stitched anything and soon I found out while doing these project inspirations – my eyes are not what they used to be! I was going nuts just trying to make sure I didn't miss any stitches. But inspite of the my best effort, I still missed a few but as you can see – not so noticeable!
Before I get into the details of how I created my cards for today, I want to explain a little about our fun little hop. We are a group of crafting friends who decided to host this hop to showcase each other's talents and to encourage each other to use crafty stash that we haven't used in a really long time or that we have "squirreled away"! In this particular case, I will be using embroidery floss that were from my cross stitch days. The photo below shows just my stash in one box, I have three more just as full!
The die I am using for this project is a rectangular stitching die from Paper Smooches (yet another squirreled away item). Unfortunately the company closed down about a year ago so I am not sure if you can still find the exact one, but since stitching on cards is now all the rage, there are a lot available out there.
I wanted to use The Greetery Macrame dies I had in my stash which has a zigzag faux macrame style pattern so I sketched out the zigzag design at the back of die cut stitching die.
Then I spent about two nights stitching the zigzag pattern in rainbow colors. It was so nice to get back into stitching again – the only problem was that I had a hard time keeping track of the stitches. But I kept on going and in the end, I think I did a pretty good job!
Before adhering the stiched panel onto a card base, I glued two layers of paper strips at the back on all sides to create some space for the stitches at the back.
Then I lined up the Macrame diamond pattern die cuts and adhered them on top of the stiching with liquid glue. I then added some acetate to the back of the front panel. I had die-cut a window on it using one of the rectangle dies from the Hero ArtsNesting Infinity Rectangle die set. Then I adhered a stamped and die-cut "Thank You" sentiment also from the Opposites Attract stamp set also from The Greetery.
Then I did the same for my second cross stiched panel but this time I only used the zigzag macrame pattern as I wanted to show more of the stitching. Then I adhered the die-cut sentiment "Just a Note" on the front of the acetate window.
I finished off both cards with a frame die cut using the Hero Arts Nesting Rectangle Infinity dies. Speaking of Hero Arts, I will be linking these projects on the STAY CRAFTY WITH HERO CHALLENGE – Rainbows theme!
Next on the hop is the lovely and creative Bory! Hop on over to her blog and show her some love!
'Til next time!
❤️
Anna
Thank you for visiting my blog. You can also find me on Instagram, YouTube, Pinterest and Facebook.
BLOG HOP LIST:
Anna Mahtani
Product List: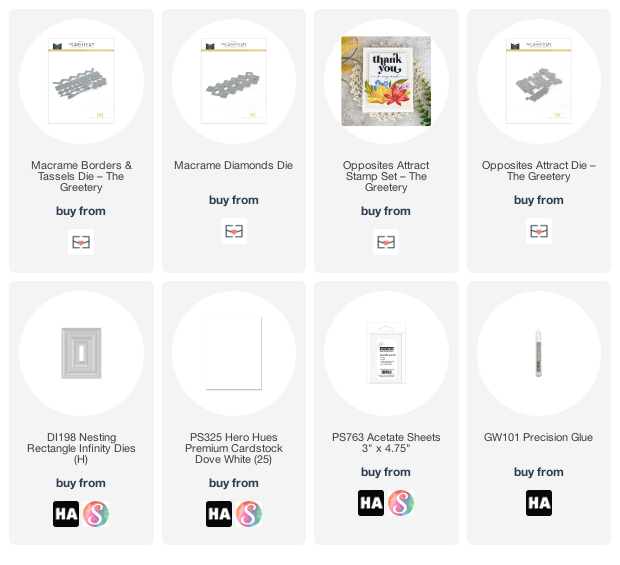 Note: I am affiliated with some online stores including Altenew, Hero Arts, Concord & 9th, Scrapbook.com and Trinity Stamps. If you use any of the links below, I get a small commission from these wonderful shops at no extra cost to you. Thank you so very much for your support! I truly appreciate it!