If you have come from the uber talented Galina Filippenko, then you are in the right place! If you happened by chance, then I hope you hop along with us for a chance to win some exciting prizes! To check out the full list of prizes and more information on the hop, head over to the Altenew blog linked here.
To celebrate their anniversay, Altenew is giving over $1,400 in total prizes! Altenew is giving away a $70 gift certificate to 5 lucky winners and one Altenew Academy class to 15 lucky winners. There are also 19 awesome companies/crafty friends who are celebrating with us, and they are offering the following prizes:
In celebration of their anniversary, I would like to share my Altenew story with you. Ever since I can remember I have always been a crafter. As a kid I would sew my own Barbie clothes using scraps from my mom's dressmaking business. I would crawl under her sewing machine and pick up whatever fabric scraps I could find. Then I would "steal" some needle and thread and sew clothes for my Barbie's. In the 70's, Barbie doll accessories were quite expensive so I would have to resort to making my own — I would turn shoe boxes into beds, bookshelves, books, etc for my Barbie. Then I graduated into other crafts like origami, papier mache, decoupage. When I got married and had my kids, I started scrapbooking. Four years ago, I discovered card making and have been hooked ever since. I am telling this story because Altenew was one of the first stamp sets I ever bought! Before I discovered Altenew, I was using ephemera on my cards, I did not know any other way to make them.
One day as I was browsing through the internet, I chanced upon a local online store selling cardmaking stamps. I was immediately drawn to the floral stamps they carried. So I ordered one called Spring Daisy – and it was Altenew! I entered my home address for delivery then shortly recieved an email from the store saying that it would be hand delivered — the owner of the store was my neighbor. She lived right next door! Nenette of @mylittleattic, if you are reading this – I blame you for my addiction to Altenew! Haha!
Here is the very first stamped card I created. Notice how I didn't vary the colors in my stamp layering? I didn't have many inks at that time to do that. I also did not use the coordinating dies because at that time I didn't even own a die-cutting machine. And the leaves – I hand colored them with markers!
In honor of Altenew's 7th Anniversary, I will C.A.S.E. (Copy And Selectively Edit) my very first card using the same stamp set. The difference will be how my skills have changed over the four years! If you would like to know more about how I C.A.S.E. other crafters projects as inspiration, you can check it here.
My original card was fairly clean and simple. I used an embossing folder for the background and some baker's twine as accent. The color palette was also quite traditional, yellow for the daisy and green for the leaves and stem. It's not an ugly card by any means, but it looks very one-dimensional.
Here is my "updated" card design using my original card as inspiration.
I used the same Spring Daisy stamp set for my card. I stamped the flowers on watercolor cardstock with Obsidian Ink and heat embossed it with clear embossing powder. I painted the flowers, leaves and the stems with watercolor brush markers from the Spring Garden set.
After I watercolored them, I used my Prismacolor pencils to enhance the areas in the inner part of the flower and in the middle of the leaves.
For the background, I used my all-time favorite embossing forder, Angled Mosaic, and embossed it on white cardstock. I used the Jet Blank Ink spray for the splatters.
I arranged and adhered my floral elements to the middle of the embossed panel. I used foam tape on the bottom flower and the small bud to add some dimension.
The sentiment "Sending Love & Hugs" is from the Best Sentiments stamp set, stamped with Obsidian Ink and heat embossed with clear embossing powder. I added it to the bottom of the stems with foam tape.
I would like to give Altenew a big thank you for their wonderful products and for inspiring me everyday! I've come so far and learned so much in my crafting journey and I credit them for that! I am also so grateful for their invitation to celebrate this wonderful milestone with them!
Special Offer
Enjoy FREE U.S. shipping with code HAPPY7TH or $5 OFF international shipping with code ANNIV21 at checkout. Offer valid from 4/8/2021 at 12:01 am EDT through 4/11/2021 at 11:59 pm EDT. Shop here: Altenew Not valid on prior purchases. Cannot be combined with other promo codes.
I am the last stop in DAY 2, you can start over at the Altenew blog linked here!
'Til next time!
Anna
Thank you for visiting my blog. I truly appreciate it! You can also find me on Instagram, YouTube, Pinterest and Facebook.
BLOG HOP LIST:
Anna Mahtani (you are here!)
PRODUCT LIST: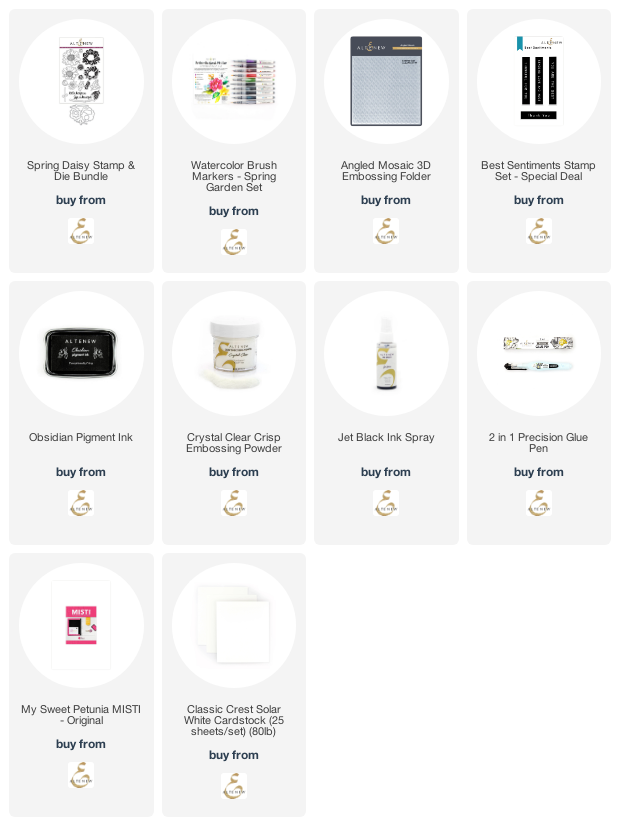 Note: I am affiliated with some online stores including Altenew, Hero Arts, Brutus Monroe, Concord & 9th and Trinity Stamps. If you use any of the links above, I get a small commission from these wonderful shops at no extra cost to you. Thank you for your support!