Welcome back to another wonderful release from Altenew! If you have come from the blog of Kelly Griglione, you are in the right place! If you happened by chance, then I hope you hop along with us for a chance to win some exciting prizes! To check out the full list of prizes and more information on the hop, head over to the Altenew blog linked here.
For this wonderful release, there is $200 in total prizes! To celebrate this release, Altenew is giving away a $50 gift certificate to 1 lucky winner and a $15 gift certificate to 10 winners! Please leave a comment on the Altenew Card Blog and/or each designer's blog post on the blog hop list below by 02/12/2021 for a chance to win. Altenew will draw 11 random winners from the comments left on each stop of this blog hop and announce the winners on the Altenew Winners Page on 02/15/2021.
What I absolutely love about the Craft-a-Flower or even layering dies in general, is that it's easy to create stunning cards just by layering them using different colors of cardstock. It's also a great way to use up your scraps!
Here is my card inspiration for this hop and a brief tutorial on how I made it. If you have been following my blog, you would know I'm all about the tutorial!
For the Cosmos flower itself, I used a lot of my cardstock scraps. The base layer, I used orange cardstock, the middle layer of the flower – red orange and for the detail layer, a deep red.
To create a more realistic look to the petals, I decided to add some additional coloring with Altenew Artist Markers – interestingly enough the artist markers set is called Red Cosmos.
You don't have to be an expert colorist to add details, keep a light hand and add flick marks from the middle of the die cut radiating outward.
Also add flick marks from the tip of the petal where there is a dip, from the top going towards the middle. This will give it an illusion of folds in the petal.
After I finished flicking with the markers, I set all the die cut layers aside and then dug through my scraps again, I used a mustard yellow cardstock and a brown cardstock for the middle of the flower. I added a little bit of color to them as well to give some depth.
For the background of my project, I used a blending tool to inkblend a gradiation of green from darkest at the bottom to lightest at the top using the colors from the Tropical Forest Crisp dye ink cube set.
I then took a panel of light green cardstock, die cut it using the Leaf Frame cover die then ink blended it as well with the same color as the base panel. I wanted a monochromatic look to the background to make the red flower really stand out! Did I go overboard with the green? Let me know what you think!
I also die cut the stems and leaves of the flower also using whatever green cardstock scraps I had in my stash and ink blended them here and there to match!
Before I adhered all my elements onto the card panel, I die cut a frame from the same Leaf Frame cover die, cut out the middle frame and used that to "frame" the flowers!
I finished off the card with a sentiment "Thankful for You" from the Tranquility Rose Stamp set, white heat-embossed on a scrap of green cardstock, which I ink blended to match the rest of the card.
If you are interested in a closer look at the release and the subscription, you can check it out in the following links:
Craft-A-Flower Monthly Subscription Plan: https://altenew.com/products/craft-a-flower-monthly-subscription

This is a monthly subscription plan for our Craft-A-Flower die set. When signed up, you are guaranteed a spot in our monthly Craft-A-Flower releases and will receive a set each month – at a specially discounted price! ($35.99 →$29.99)
Hope I was able to inspire you with my brief tutorial. Next on the hop, is the talented Laurie Willison.
'Til next time!
Anna
Thank you for visiting my blog. I truly appreciate it! You can also find me on Instagram, YouTube, Pinterest and Facebook.
Full Hop List:
Products: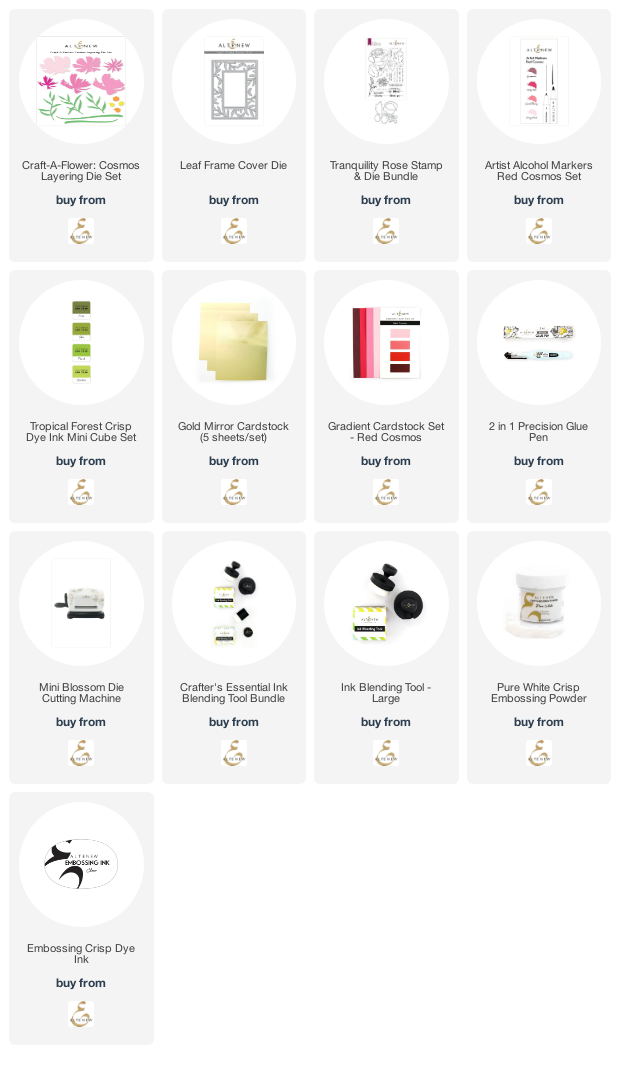 Note: I am affiliated with some online stores including Altenew, Concord & 9th, Hero Arts, Brutus Monroe and Trinity Stamps. If you use any of the links above, I get a small commission from these wonderful shops at no extra cost to you. Thank you for your support!