I was really excited when one of my favorite cardmakers, Jaycee Gaspar @jaycee.gaspar was giving a class over at the Altenew Academy called Elements of Floral Composition. And just in time too for my Level 3 AECP requirement!
The class covered the elements of art which is so helpful to know when creating beautiful card designs. Jaycee covered several concepts in the class – Color, Line, Value, Form, Texture, Space and Shape.
Taking his class brought me back to the days when I was an Interior Design student — as the concepts are almost all the same in creating aesthetically pleasing compostions be it a card, a piece of art or a room. It was a two year course of which I finished along with managing my own business. I never took the board to be certified because I was not really interested in making it a career. I really just took it to expand my knowledge or maybe I just wanted to design my own stores!
I applied what I learned in Interior design to my current passion – cardmaking! In Interior Design, the elements of design are very similar to the elements of Art — Color, Line, Light, Form, Texture, Space & Pattern. For my card I will focus more on patterns or in this case, mixing patterns on your cards.
What is pattern in the context of Interior Design? A pattern in created by a use of a design element that can be used throughout a room or space – be it in the wallpaper, upholstery, floor coverings, wall murals or fabrics. Patterns come in various types, such as geometrics, stripes, animal prints, motif, pictorial, nature or organic. In a room or physical space, it is important to note that combining different types of patterns can be interesting but must follow the other rules of color, line, texture etc. so as to not overwhelm the senses.
There are several ways to mix patterns but one that is useful to keep in mind is the combination of these three elements: 1)movement or motion, 2)geometric and 3)tiny prints or small scale. It is in the combination of these three patterns in varying degrees that can give the room an interesting aesthetic, of course, there needs to be a certain cohesiveness that runs through each pattern, like color palettes that can bind seemingly unmatched patterns to match.
Here are a few examples of the combination of the three elements:
In the living room photo below, you can already see these three pattern combinations at play. The overall look of the interior is a little on the masculine side but the introduction of some elements does give it a more neutral vibe. We see the three elements of mixing patterns here: Movement is represented by the painting on the left as well as the throw pillows; Geometric pattern is represented by the painting in the middle and for the final pattern combination, the small scale or tiny prints are represented by the varied textures of the couch.
How does one apply these concepts to cardmaking? These three elements are useful to keep in mind for composition of your card design. I used the photo above with its mixed of patterns as the inspiration for my cards.
To create my cards, I had to look at my stamp sets in a very different light. I wanted to incorporate a floral element but had to look for something in my stash that would work for a masculine look and feel, just like the room.
I chose two stamps sets; Indoor Garden and the Floral Arrangement. They had great solid stamps that I knew I could work with to create a graphic look to my patterns.
I selected some solid stamp elements to create patterns. I took these stamps and stamped them out on a piece of cardstock in a repeating pattern.
These are the patterns I came up with using those two stamp sets. These patterns I stamped out using the Obsidian Pigment Ink will be the patterns representing Movement or Motion on my card design.
I also stamped out the Shine like a Diamond background as the geometric pattern for my card using the same Obsidian pigment ink.
To serve as a frame for my patterns, I die cut the Fine Frames Rectangles on black cardstock. I took apart the fine frames and used two layers to frame each pattern element for my card. Then I took a panel of Neenah Desert Storm 80lbs. cardstock, splattered it with Jet Black Ink Spray. This panel will represent the tiny prints or small scale element of my pattern mix. For the sentiment, I stamped out the words "Cool" and "U Rock" from the Label Love stamp set. The layout of my card is inspiration I took from the Elements of Floral Composition class.
Here is my second card that I created but this time on a 5″x5″ card panel. I used the Shine Like a Diamond pattern as the more dominant graphic element and the movement pattern comes from the floral pattern. Like the first card, the ink splatter in the background is the tiny print element in my card. The sentiments also came from the same Label Love stamp set.
I hope my tutorial inspired you to look at creating your cards in a different way! If you want to take it even further, I encourage you to check out the Elements of Floral Composition class. I cannot recommend this class enough!!
'Til next time!
Anna
Thank you for visiting my blog. I truly appreciate it! You can also find me on Instagram, YouTube, Pinterest and Facebook.
Materials used: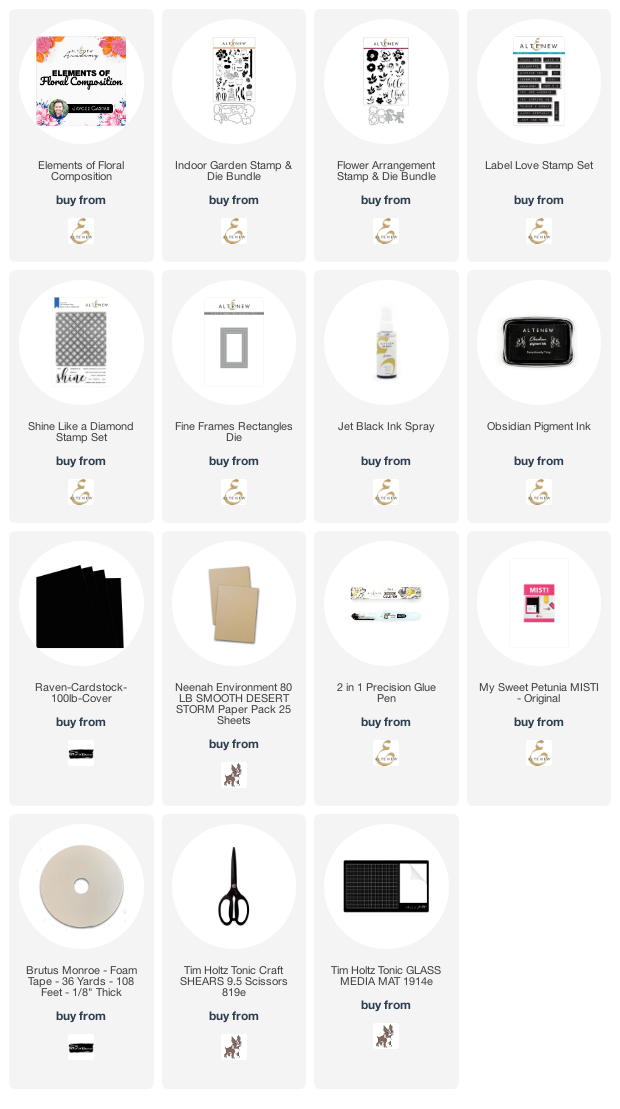 Note: I am affiliated with some online stores including Altenew, Concord & 9th, Hero Arts, Brutus Monroe and Trinity Stamps. If you use any of the links above, I get a small commission from these wonderful shops at no extra cost to you. Thank you for your support!