Hooray! Its time for another Collected Crafty Collabs Hop and you have just come from the YouTube channel of the talented Boryana Yankova of @bory_crafts. If you are new to this hop, this is a hop organized by my Crafty Squirrel Sisters Karen @misplacedmojo, Marie @anothercardmaker, Virginia @passionsanddistactions and I. Our goal for this hop is to uplift fellow creatives and to encourage crafters to use that thing or things in their stash that they "squirreled" away!
The theme of this month's hop is summer and/or embossing folders. Some of you may use them all the time but I bet there are a few you have that has not seen the light of day in a long time! For this inspiration post, I am using a digi stamp from Polkadot Orchard from their Summer collection called Beach Party. As of this date, Polkadot Orchard is on a 30% off sitewide sale! You can check it out here!
The embossing folder I am using is a 3D folder from WRMK. I have several of this and I am ashamed to say its been a long while since I used them.
First I inked up my embossing folder with some Distress Oxide Inks in Salty Ocean, just swiping the ink pad horizontally across, but not pressing it down too much. I wanted the ink to sit on top of the raised part of the embossing folder. Then I sprayed the inked embossing folder with water. Is works better if your spray bottle has a finer mist.
After spraying, I took a piece of watercolor cardstock and sandwiched it carefully inside the folder. I ran the folder through my die cutting machine. I wanted to add more colors so I swiped Chipped Sapphire Distress Oxide Ink on the other side of the folder – the side that I did not use, then sprayed it with a fine mist of water, placed it back into the embossing folder and ran it through a second time.
I did the same with another panel but used a different blue color Broken China. I also experimented with another WRMK embossing folder and the effect came out looking like scales!
I printed out the surfboards and flowers from the PDO Beach Party set and colored them with my copics. I fussy cut them out and set them aside. I die-cut a white cardstock panel with the Wonky Stitched Rectangle die, cut out the middle with another die in a smaller size to create a frame. To add the effect of sand around the frame, a swiped Versamark ink around the inside of the frame, sprinkled Sand embossing powder from Hero Arts and heat set it.
To make the frame sturdier and to allow me to put elements on top of it, I adhered clear acetate to the back and also added some foam tape for dimension.
I cut down my embossed panel to 4.25″X 5.5″ , added some custom made sequin mix before adhering the double foam mounted frame on top. I added my little vignette of surfboard and flowers to the lower left hand corner and added the sentiment "Happy Summer!"
Next up is the talented Valerie Powell @valzartlounge. Hop on over there to see what she has created for this hop!
Happy hopping!
'Til next time!
🧡
Anna
Thank you for visiting my blog. I truly appreciate it! You can also find me on Instagram, YouTube, Pinterest and Facebook.
Materials used: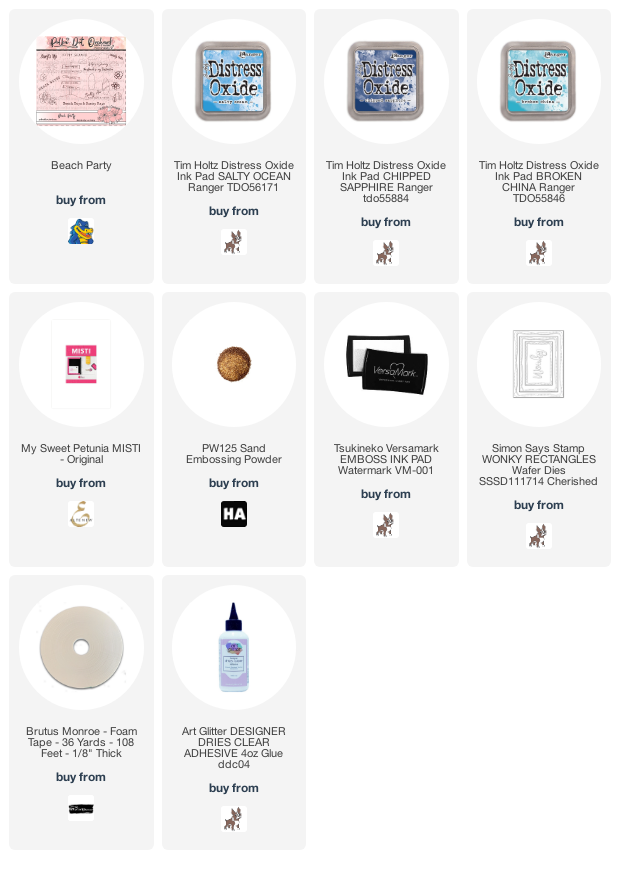 Note: I am affiliated with some online stores including Altenew, Concord & 9th and Hero Arts. If you use any of the links above, I get a small commission from these wonderful shops at no extra cost to you. Thank you for your support!