Hi everyone!! The squirrel sisters and I are back with a brand new hop for the new year! As some of you know, we get together every month for a fun and inspirational hop where we work on a certain theme and use something in our stash that we've squirreled away. This month we are using a sketch and our theme is love and/or friendship. Just in time to get an early start on your valentine's card.
We each drew lots on sketches we liked and this one was picked – a sketch from Paper Play Sketches. I have very little experience in working with sketches but lately since the start of the year, I made a resolution to use up my hoards of pattern paper and have been experimenting a lot with sketches.
I am quite fortunate to be on the Hero Arts Design Team so I get to play with many of their wonderful products and I will be showcasing one of the beautiful die sets just recently launched! Their latest collection is inspired by the love locks bridge in Pont des Arts, Paris, where lovers would attach locks on the bridge chain linked fence to proclaim their love for each other. I believe that it no longer exists as the govenrment had taken it down because all the locks weighed too heavily and the bridge structure was being compromised.
First, I worked on my background. I ink blended Hero Arts reactive inks starting at the bottom – Blue Hawaii, Splash, Berry Smoothie, Grape Slush and Purple Galaxy. All these colors, except for the Blue Hawaii and Splash are part of the Floral Palette collection of reactive inks.
If you notice, my ink blending is a little rough, but that was ok because I sprayed the panel with Shimmer spray and then dabbed off the excess with a paper towel. When I lifted the paper towel, it took the impression of the texture of the towel, which I really loved!! It was one of those happy little accidents!
In my stash, I have some silver mirror cardstock that was so old that it had weird little black spots in it. I am not sure how that happened but thats why I never really used it. Then I had this idea on how I can use it on my project.
For the fence supports, I die cut the silver mirror using the Signpost Stamp & Cut XL die from last month's release. This die is meant to cut out a sign post but I thought I it would make the perfect bridge fence support. The chain link fence is die cut from the Chain Linked fancy die from this month's release. To hide the defect on the mirror cardstock, I distressed it using Jet Black Staz-On ink – took an old microfiber towel and dabbed the ink on the die cuts, smearing in here and there until I got the look I wanted. My ink pad was a little dry as it was really old and haven't used it in awhile but I made it work.
Then I die cut three locks from the Locks Fancy die collection but only distressed two of the them. For the largest heart-shaped lock, I used a fairly new mirror cardstock. The distressed locks represent the locks on the bridge that have been there for years and have been weathered. The biggest lock, represents a new lock for lovers that have just recently placed their love lock on the bridge.
For the heart shaped lock. I paper pieced and ink blended piece using the Berry smoothie ink. I highlighted it with a white gel pen then added silver baubles on the three points where the holes where. I also cut out a small piece from the lock mechanism to look like it was unlocked. I die cut additional locks using pitch black cardstock and adhered it at the backof each lock , off setting it a little to give it more dimension and shadow.Then I assembled all the elements on my card. Then I adhered it on the same mirror cardstock panel I used to cut out the locks.
I silver heat embossed the sentiment "you've unlocked my heart" on pitch black cardstock. The sentiment is from the Key to my Heart stamp set.
I veered a little away from the sketch but I hope not too much. I kept the three main decorative elements on the left side just like the sketch and "anchored" them with the fence post. The sentiment is placed on the upper right side where the dots were on the sketch.
Next on the hop is the lovely and talented Bory and her take on the sketch and theme will surely blow you away! Full hop list is below!
Stay safe and stay crafty!
'Til next time!
❤️
Anna
Thank you for visiting my blog. You can also find me on Instagram, YouTube, Pinterest and Facebook.
HOP LIST:
Anna Mahtani – you are here!
PRODUCT LIST: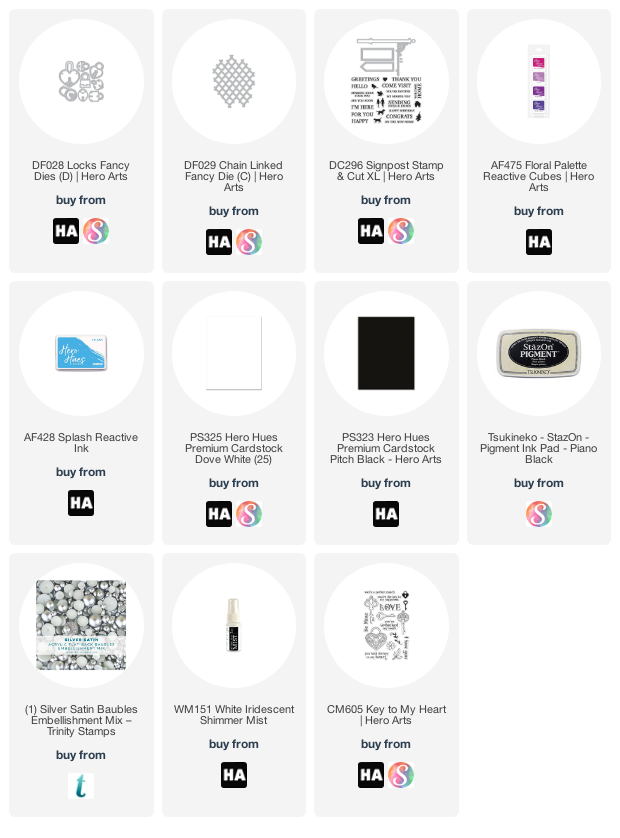 I am affiliated with some online stores including Altenew, Hero Arts, Concord & 9th, Scrapbook.com and Trinity Stamps. If you use any of the links above, I get a small commission from these wonderful shops at no extra cost to you. Thank you so very much for your support! I truly appreciate it!