Welcome to the very first in a series of Squirrels Gone Nutz monthly blog hops!
Why the crazy name you ask? Well, if you have been following my blog, last month we recently concluded the Collected Crafty Collabs hop organized with my fellow Squirrel sisters, Karen @misplacedmojo, Virginia @passionsanddistractions and Marie @anothercardmaker. We had so much fun so we decided to do it again! We now have honorary squirrel sisters joining us – Bory, Lounon and Natasha! If you have been following the hop, you have come from the lovely and talented Natasha!
The theme of our January hop is Leftovers and Something New! I have tons of leftover paper scraps and backgrounds from previous projects that was just screaming to be used and turned into something wonderful! The stamp set I chose for the something new theme is the Hero Arts My Monthly Hero December 2020 kit. This kit is a theme of hope and renewal, just perfect for the new year! We all need that extra encouragement that this year will bring us all renewed hope!
I wanted to make full use of my scraps in different ways so I made three cards!
CARD #1: STRIPPED IT!
I keep all my colored cardstock scraps in a binder sorted by color. I chose a few colors that would be perfect for a sunrise! Actually its more of a sunset color scheme, but pretend you didn't notice!
I cut them into strips, with the lighter colors in thinner strips, getting thicker as the colors got darker. I didn't have dark pink cardstock but I found some paper backing from an ephemera package that I thought would go well with the colors.
I adhered the strips onto a scratch piece of cardstock, starting from the middle going upwards. I took the sun and rays stamp from the set and heat embossed it onto the stripped panel using Sparkle embossing powder.
Then I die cut a window on white cardstock using the clouds window die from the kit. I stamped the sentiment "Wishing you a better tomorrow" with Hero Arts Intens-ified black ink. I placed some foam tape behind the stamped panel before adhering it on the card.
CARD #2: STAMPED IT!
In last month's squirrel hop, I had used my gelli plate and created several backgrounds for my card project. I had a lot of leftover panels and thought it would be great to use it for my next card.
I used the layering sky stamp in the kit to stamp over one of the gellied background. I wanted to give interesting texture to the sky. For the first layer I used Grape Slush, Blue Hawaii and Splash Hero Arts reactive inks. I used a mini sponge dauber and dabbed it onto the stamp to create an ombre effect. For the next clouds layer, I used Berry Smoothie, Creamsicle and Lemon Drop reactive inks using the same technique with a mini dauber. Then for the clouds final layer, I used Unicorn White pigment ink. I then used the Sparkle embossing powder on top of the stamped sun and rays.
For the sea scape, I used the Hero Arts layering waves stamp set. I used the same colors as the sky but I dabbed the orange and yellow colors in the middle area and the blues in the outer parts. I stamped the waves with Unicorn pigment ink and heat embossed it with the same Sparkle Embossing powder.
I die cut a window on white cardstock using the clouds window die from the kit but this time upside down. I stamped the sentiment "It's a New Day" with Hero Arts Intens-ified black ink. I cut down the panel to 4″X5.25″ before adhering it on a 4.25″X5.5″ card base.
CARD #3: INLAID IT!
My third card uses leftover ink smooshed panels that I made also from a previous project. I usually make more than I need so I have more choices.
I took one of the panels, cut it down to 4.25″X5.5″ and adhered it to same size notecard. I die cut two cloud panels using the Cloudy Sky Scene die. I used an acetate sheet behind the cloud dies for more stability. I used foam tape and glued it on the ink smooshed card panel.
I took the leftover piece that I cut from the the original ink smooshed piece and die cut the word HOPE from the kit. I also die cut from white cardstock then inlaid that. For the sun part of the word, I used the yellow prisma embossing powder and heat embossed a piece of carstock and used the HOPE die to cut just the sun portion then inlaid it as well. I adhered the word on top of the panel an called it finished!
I was so inspired by using my leftovers and the kit that I created three cards! I do hope you hop along and be inspired on creative ways of using your leftovers!
Next on the hop is my witty and uber creative squirrel sister, Karen!
'Til next time!
❤️
Anna
FULL HOP LIST:
Anna Mahtani – That's me!
Thank you for visiting my blog. I truly appreciate it! You can also find me on Instagram, YouTube, Pinterest and Facebook.
Materials used: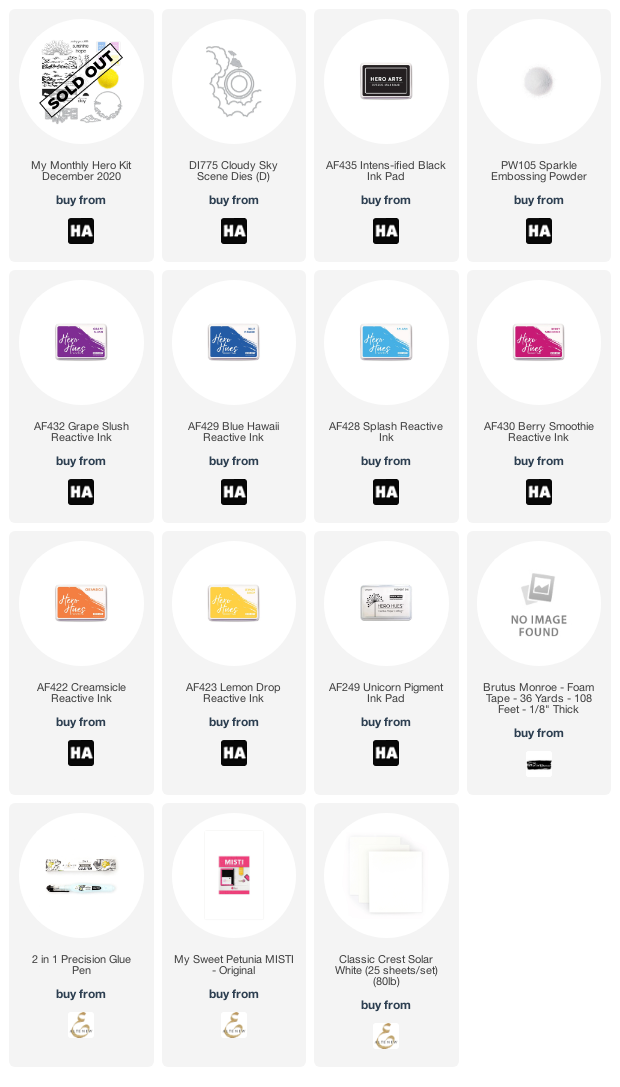 Note: I am affiliated with some online stores including Altenew, Concord & 9th, Hero Arts, Brutus Monroe and Trinity Stamps. If you use any of the links above, I get a small commission from these wonderful shops at no extra cost to you. Thank you for your support!