Happy New Year everyone!! Who here wishes we can reset the year that was 2020? I know I do! Having said that, indeed it was a difficult year but it was a year of many blessings as well.
One my new year's resolution this year is to try to use all the stamps, dies and other items in my stash that I have yet to pull out of its packaging. I thought about not buying anything new but who are we kidding here? It was very timely then that my good friend Virginia of @passionsanddistractions is hosting a challenge called Just Stash January. It's a simple challenge, not to buy any craft supplies for the whole month of January. There are a few exceptions, so if you are interested in checking out this fun challenge, I will link it here. I am excited to give this a try as it fits in with my crafty resolution. How about you? What would be your new year's resolution?
My inspiration for this month is the new craft supplies I acquired over the holidays. Some are christmas gifts, some I bought myself. One of the sets I bought was the Toadstool Garden dies from The Greetery. I bought several items from The Greetery so I will be using mostly The Greetery items in my card — all from different releases – old and new!
There are a lot of little die cut elements in the Toadstool Garden set. I prefer to die cut them all in one go, then color them all together.
After die-cutting all my elements, I separated each element into little compartments in a tray. The tray I used was the plastic inserts that came with a Nutella snack box. I keep these inserts because they are super useful not only for organizing die-cuts but also for to use as wells for my watercolor painting.
I made sure to keep the little nests that each die cut comes in and label them according to the number system enclosed in the die packaging. I place them on a sticky mat, the same mat you would use for a silhouette or cricut machine. Then I place each die cut and color them accordingly.
I used Altenew crisp die inks to color my toadstools using a finger dauber. If you would like to give this a try, just make sure to color them from lightest to darkest. The inks do dry between color changes, but you would need to give it a minute or two.
After I finished coloring all my elements, I put them back in little compartments. Then I assemble them. The packaging the dies come in, do come with illustrations on how they all fit together to make it much easier.
After assembling them, I placed them again in separate compartments. This time I separated them according to the variety because that is how I was going to assemble my cards. One compartment, one card.
The Greetery has another wonderful die called Wood Slices die. Its a two part die that when assembled and inked up, looks so much like wood slices. That is what I used as the backdrop for my toadstools. I also stamped and die cut the leaves from another set called Simple Things.
I wanted to keep the background fairly subtle so I used the Brick Layer dies also from The Greetery cut out from white cardstock. The sentiment is from the Hoop Wreath stamp set.
Hope you were inspired by this! I hope you join me in the Just Stash January challenge!
'Til next time!
❤️
Anna
Thank you for visiting my blog. I truly appreciate it! You can also find me on Instagram, YouTube, Pinterest and Facebook.
Materials used: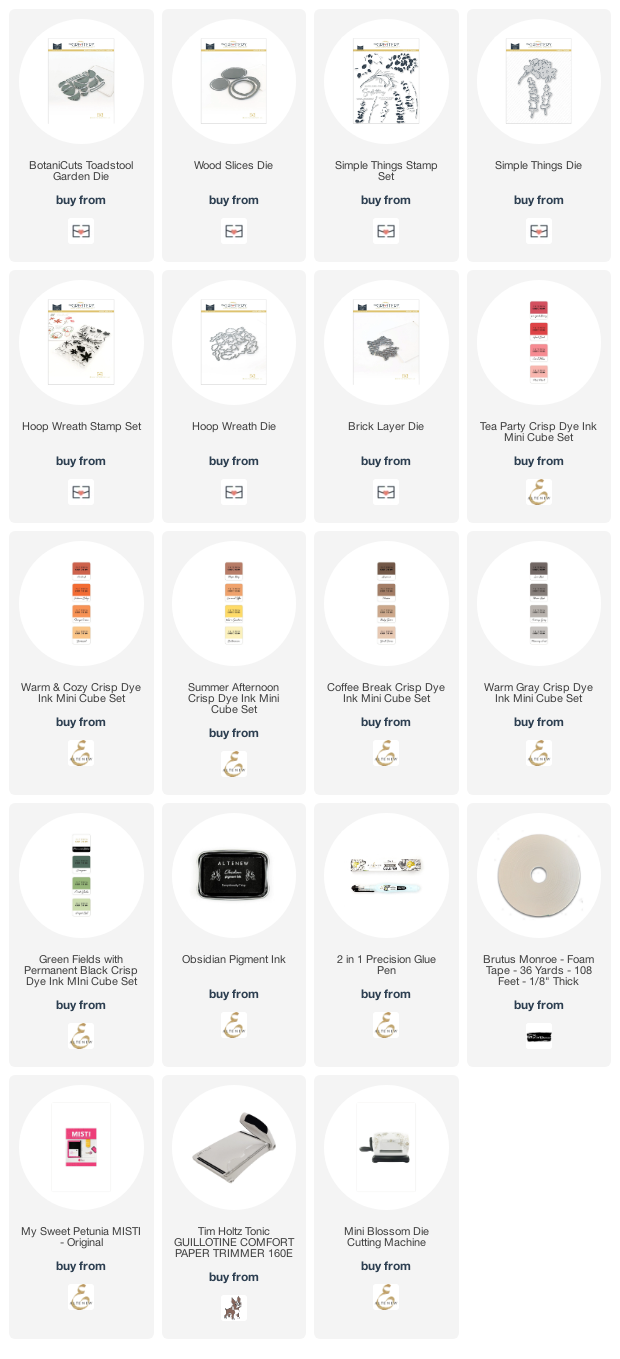 Note: I am affiliated with some online stores including Altenew, Concord & 9th, Hero Arts, Brutus Monroe and Trinity Stamps. If you use any of the links above, I get a small commission from these wonderful shops at no extra cost to you. Thank you for your support!