It's time again for our monthly crafty blog hop! This month's theme is Halloween/Fall with optional sequins! If you are new to our hop, my crafty squirrel sisters, Karen @misplacedmojo, Virginia @passionsanddistractions and Marie @anothercardmaker and I organize this hop to uplift and support fellow makers and encourage using our stash that we hardly ever use, collect too many of or just squirrel away. If you are following this hop, you have just come from the wonderfully talented Yvette Olea.
My project for this hop is a fun double layer shaker card with a Halloween theme! I will be using the Hero Arts My Monthly Hero Kit from from back in September 2019 (one year ago!) – which I haven't gotten a chance to break out of its packaging!
This kit has a peek-a-boo fancy die so perfect for creating little windows in a card front for a shaker. I thought I would step it up a bit and double up the layers to make it multi-dimensional.
I took three pieces of 4.25″X5.5″ white cardstock. For the front panel, I stamped out the grid cabinet onto the cardstock with Hero Arts Intens-ified Black Ink. Then I used the peek-a-boo die to cut, lined it up against the grid and die cut it. I trimmed off the "windows" to leave it open. For the middle layer, I stamped out assorted little images, lining it up with the openings, cutting out some windows so the images on the base layer will show through. For the base layer, I stamped out additional images onto the cardstock using the same inks.
On a separate scraps of cardstock I stamped out 4 images and clear heat embossed them. Then I proceeded to fussy cut them out. These elements (the skull, key. shells and moth) with be inside the windows on each corner of the shaker card. I will not adhere them to the cardstock which will allow them to move freely inside their windows.
I used craft foam for dimension between the cardstock layers. I had some craft foam in purple and green which I never get to use, so I thought this would be a perfect project to use them. I cut both the green and purple craft foam using the peek-a-boo die. I cut out all the windows of the purple foam as this will go behind the front panel. I selectively cut some windows off from the green foam.
I used Distress Oxide inks for the backdrop of each window, using the tip of my blending brush to color. I used Mowed Lawn and Twisted Citron for the greens, Wilted Violet and Seedless Preserves for the purple and Antique Linen and Frayed Burlap for the browns. As for the elements, I colored them with Karin Brush Marker Pros.
Once all my layers were colored in, it was time to assemble the card and add the sequins. First, I adhered the green craft foam on top of the base layer and proceeded to fill them in with sequins into each "well". I used a combination of green, black and purple flat sequins. I've had this sequins in my stash for the longest time! It was about time I got to finally use them!
After I filled each well, I adhered the middle cardstock layer on top of the green craft foam. I took care to make sure everything was aligned.
Before I adhered the top layer of cardstock, I adhered a thick piece of acetate to the back and then pasted it onto the purple craft foam. I placed the elements that I had fussy cut out into their respective windows before I adhered the top layer down.
This card was quite intense to make. I had a lot of trouble deciding which images goes where and which windows had the sequins and which didn't. But in the end, it was well worth the trouble!
Hope you were inspired to make a double layer window shaker card!
Next up on the hop is the uber talented Teresa Russell. Check out her project and be inspired!
I'm linking this halloween project to the #staycraftywithhero challenge!
And I am so excited that I have been SPOTTED by Hero Arts! Thank you HA!!
'Til next time!
🧡
Anna
Thank you for visiting my blog. I truly appreciate it! You can also find me on Instagram, YouTube, Pinterest and Facebook.
Materials used: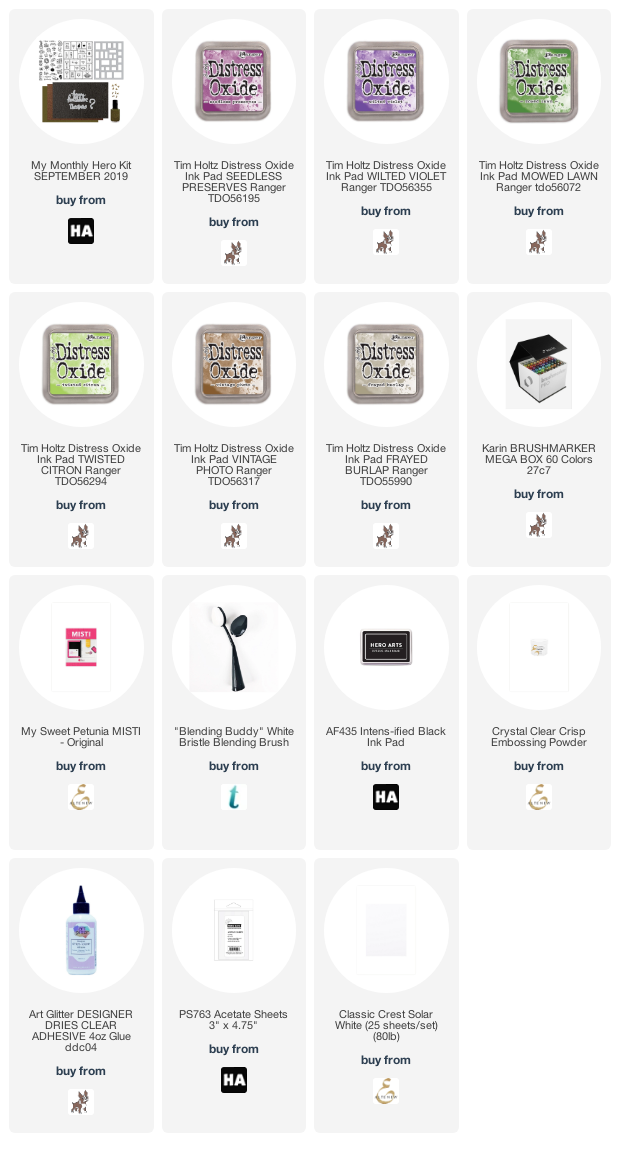 Note: I am affiliated with some online stores including Altenew, Concord & 9th, Hero Arts, Brutus Monroe and Trinity Stamps. If you use any of the links above, I get a small commission from these wonderful shops at no extra cost to you. Thank you for your support!