Hi and welcome!
Over at the Handmade Happiness FB group, we have a wonderful hop called CASE THE FELLOW CREATOR organized by Courtney Kreeber, an amazing cardmaker. For this hop, I will be CASE-ing Danielle Brown. She has a wonderful blog called Parenting and Papercrafting. She is a talented papercrafter – her style is clean and simple, something I often struggle with. So I decided I just had to CASE her and challenge myself in the process!
It was difficult to choose a card as she has so many beautiful ones. But in the end I decided to CASE this one because, aside from it being a lovely card, it's also 1) a card that she made and posted that happened to fall on my birthday! and 2) I love the color gradiation of yellow to red.
Here is her card, I will also link to her blog project here:
This is my version of her card. Instead of using Distress Oxides to blend, I used Metallic Watercolor paints using the same gradiation from yellow to red but in reverse horizontal order.
I took a regular thick black cardstock (I do not have black watercolor paper) and taped it down on my work surface using painters tape leaving a 3/4 inch margin on all sides.
I picked four colors from the Altenew Metallic Watercolor palette that had the shades of yellow to red. I took a dropper and filled each paint well with around three drops of water. This is the most effective to activate the paints.
Then with a wide watercolor brush, I filled up the tip pf my brush with the pigment and applied it on the lower part of the paper in a side to side swiping motion. I did the same with the rest of the colors. I did not over saturate my brush with water because I am not using watercolor paper, instead I just used what water I filled in the wells.
Then, I took my Misti stamping tool and stamped the flowers from the Altenew Wonderland stamp set onto the panel using Versafine Onyx Black ink as I wanted the stamped impression to be as solid black as possible.
I noticed that it did not stamp as solid as I had wanted so I took some Brutus Monroe Raven Ultra Fine Embossing powder and heat embossed the image.
I also stamped and heat embossed a very simple Happy Birthday sentiment from the Birthday Builder stamp set also from Altenew.
I was so tempted to bling it up – you know because I struggle with clean and simple cards, but decided not to in the end.
Hop on over to Danielle's blog and check it out! She will be CASE-ing another wonderful creator and you wouldn't want to miss it!
Karen Page is casing me in this hop, check out her wonderful creation!
'Til next time!
❤️
Anna
Thank you for visiting my blog. I truly appreciate it! You can also find me on Instagram, YouTube, Pinterest and Facebook.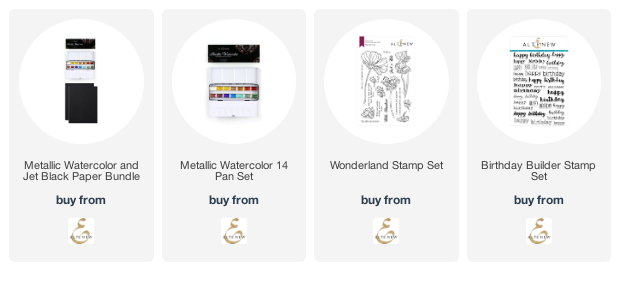 Note: I am affiliated with some online stores including Altenew, Concord & 9th and Hero Arts. If you use any of the links above, I get a small commission from these wonderful shops at no extra cost to you. Thank you for your support!