Welcome! If you are following the Use it Up or Dig it Out blog hop, you have just come from Marla Harris YouTube channel.
Due to the state that we all seem to find ourselves in, I now have the time to do the stuff I have been putting off doing. One of these things is to clean out my craft space. In doing so, I have uncovered a lot of old craft materials and papers I haven't seen or used in years. Do you have the same issue?
One of the stuff I dug out was this holographic mirror cardstock that I bought from a local craft store. If I remember correctly, I bought it to cut out stars as decoration for my youngest daughter's 5th fairyland themed birthday party. She just turned 12 years old, so that is how long its been hiding from me!
I recently finished the AECP Magical Markers Techniques with Sara Naumann. This is a wonderful series of classes where you will learn other unique ways to use your alcohol markers. This holographic mirror cardstock is perfect for alcohol marker techniques! If you don't have holographic mirror cardstock, you can substitute with regular mirror cardstock.
This is the card I created with it.
To create the flowers, I used the Altenew Rose Filament Die, which I thought would be perfect for this technique. I die-cut a few flowers from the set using my Mini Blossom Die Cutting Machine. I removed the insides of the die cut and set them aside on a plate. Then I colored the rose with a red alcohol marker and the leaves with a green alcohol marker. If you are new to alcohol markers and would like to invest in reasonably priced sets with perfect color blending families, I would suggest to check out the Altenew Artist Markers Set A as a starter set (which I will link below). There are 12 alcohol markers with 3 blendable color families, green, red and blue. What I love about their alcohol marker sets is that it takes the guesswork out of which color shades blend well together.
After coloring your die-cuts, fill a spray bottle with Isopropyl Alcohol (you can purchase this at any drugstore or pharmacy) then spray lightly on your die-cuts. This allows the colors to move a little so as to achieve some texture and interest.
After spraying, allow a few minutes to dry. Then paste the die-cuts on a scrap piece of paper, then fussy cut around the die-cut, staying very close to the edges. You can then proceed to paper piece the insides of the rose and leaves. I chose not to color the insides in order to provide contrast.
For the background of my card, I used the Brutus Monroe Fallen Snow Glitter Glaze over the Deco Wallpaper stencil by Altenew. I allowed it to dry before cutting it down to 4″ X 5.25″, Then for the base, I cut a 4.25″ X 5.5″ out of the same holographic stars cardstock. Then used a black alcohol marker (which is also included in the same Altenew Alcohol Markers Set A) and colored the sides of the cardstock, then sprayed it also lightly with Isopropyl alcohol. I did the same for the sentiment but the only difference is that I colored the holo cardstock first, then sprayed with alcohol, then die-cut the fancy HELLO sentiment.
When all of my elements were complete, I assembled and pasted them onto the stenciled background. I used crafters foam also die-cut with the same fancy HELLO die and glued to the back of the colored fancy HELLO.
Here are more close up photos of my card. I apologize in advance if you cannot see the holographic effect thru my camera lens.
If you are interested in these type of techniques, I encourage you to check out the Altenew Academy linked here. They have several classes for both beginner and advanced cardmakers. This tutorial is part of my requirement for a certification in their AECP program.
If you are interested in another "Use it Up" project, please feel free to check out another card I created using Martha Stewart Magazines, which I will link here.
Special thanks to Renee of Delaney Jane Cards for hosting this hop! Next stop on the hop is Dawn-Marie's Crafty Corner.
Enjoy!!
'Til next time!
❤️
Anna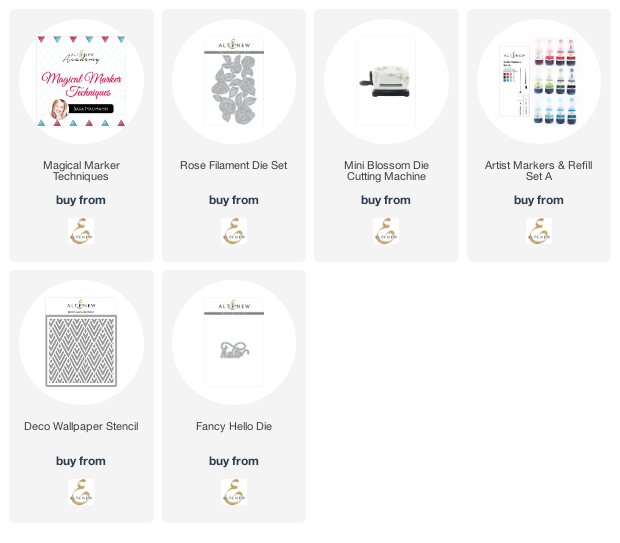 Note: I am affiliated with some online stores including Altenew, Concord & 9th and Hero Arts. If you use any of the links above, I get a small commission from these wonderful shops at no extra cost to you. Thank you for your support!