We are living in unusual times, but maybe its not unlike what our parents or grandparents went through during the war. The city I live in went on lockdown last March 15 and we are limited in what we can do outside our homes. A curfew has been imposed and it feels like we are living a movie. This is the event that will define our generation and the next. It feels like the world is in upheaval but at the same time, its a step back to assess what is truly important in our lives. I now have more time for creative pursuits like watercoloring and crafting – spending more time with the kids and the hubby. That isn't too bad if you really think about it.
This month's ATSM challenge is Anything Goes. The technique I am sharing with you is all about heat embossing backgrounds using different colors of embossing powders to create interesting backgrounds.
For this card, I used the Marble Background stamp from The Stamp Market. I also used three colors of Altenew Crisp Embossing powder – Bronze, Antique Silver and Antique Gold.
First, I chose black cardstock. If you are using metallic embossing powder, choose a dark color so that the shine of the metallic embossing powders comes through.
Using my Misti stamping platform, I placed my card base down and placed the stamp. I closed the door of the Misti and picked up the stamp. I then used an anti-static powder tool all over my card base to make sure the embossing powder does not stick to where I don't want it to. I then inked up my background stamp with an Versamark Ink and stamped it down onto the card base. I repeated the process twice to make sure I got the ink in all the right places.
I had all three embossing powders lined up and ready, I proceeded to sprinkle the Bronze powder over the bottom right corner – but only on one third of the card. Then I got the next embossing powder color – Antique Gold – and sprinkled it on the middle part of the card. I then sprinkled the last color – Antique silver – on the remaining one third of the card. The technique here is to try to overlap the embossing powders a little to get a more gradual blend between colors. Then I proceeded to heat set it.
For the sentiment, I used the HELLO sentiment die from Altenew Hello & Hugs die set which has a "shadow" layer which I die cut out of vellum. I die-cut the HELLO sentiment from matte gold cardstock. The sub-sentiment is from the Altenew Best Sentiments stamp set. I also die cut a smaller frame from the same matte gold cardstock using the Hero Arts Rectangle Infinity dies. To finish it off, I added gold jewels from Little Things by Lucy's Cards.
This technique makes for a very elegant card. If you have a wide variety of embossing powders, you can try making a rainbow background!
I hope I have inspired you to try this technique. See you at the ATSM challenge! I can hardly wait to see what you create!
'Til next time!
❤️
Anna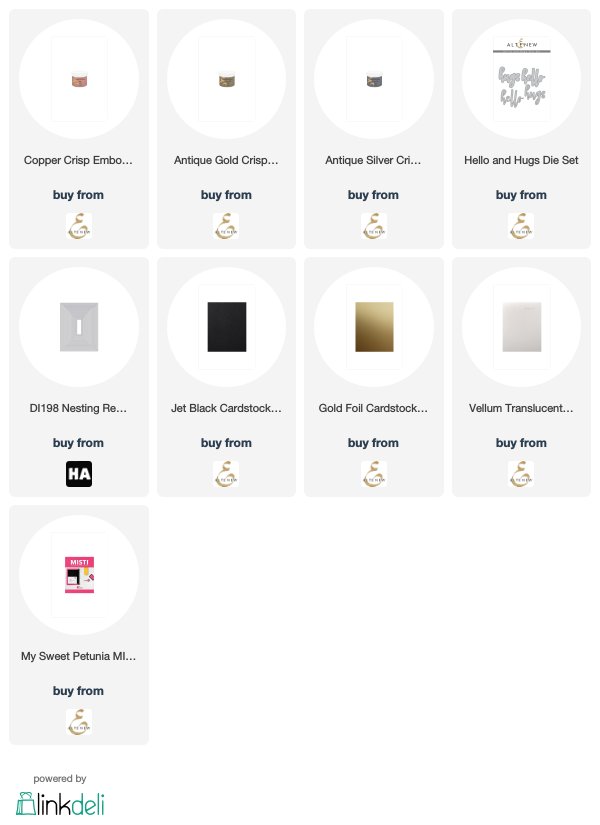 Note: I am affiliated with some online stores including Altenew, Concord & 9th and Hero Arts. If you use any of the links above, I get a small commission from these wonderful shops at no extra cost to you. Thank you for your support!