Christmas holidays are here, and we are off to the beach! The thing I most love about living in a tropical climate is that it's almost always "beach weather". It's our family tradition to spend several days in our family beach house for long holidays. The photo below is my inspiration for the lesson Color Your Day of the Altenew AECP program. This class is given by Therese Calvird, a wonderful and talented cardmaker.
My mom loves hibiscus flowers and these plants are all over the garden of our beach house. They come in a myriad of colors but I chose the flowers above as my inspiration for my card.
I made the border of my card by creating a grid pattern on my media glass mat. This was inspired by a video Jennifer Mcguire made using a Gina K wreath builder. If you would like a step by step tutorial on how to create a border builder, please click on my short video tutorial below. I would love it too if you would subscribe 🙂
I placed a 4.25″ X 5.5″ piece of white cardstock on top of the border template on my media mat. Then I laid the Altenew Deco Wallpaper stencil on top but off to one side and secured the top of the stencil with washi tape. See photo below.
Then I masked off the other side of the stencil to protect my paper from ink stains.
In Lesson 2 of the Color Your Day class, I learned to use analogous colors, this is specially important if you want to layer colors one on top of each other in order to avoid colors looking "muddy" . Analogous colors are those colors next to each other in the color wheel. For this card, I used warm colors, yellows & oranges.
Here is a helpful tip, start blending with the lightest color first working your way around the paper with the colors getting darker. I did this deliberately so that I did not need to clean my blending brush between colors nor did I need to change the mask.
First I used Maple Yellow Crisp Dye ink, blending on either side of the paper. Then Autumn Blaze for the top and bottom. Rubellite and Ruby Red blended directly across each other on each corner of the paper.
After I finished stenciling the border, I used Hero Arts Rectangular Infinity Dies to cut out the stenciled frame.
For the background, I used the Hero Arts Abstract Graphic Texture cover die as I thought it matched the border perfectly! I ink blended colors Maple Yellow concentrating mostly in the middle, then Autumn Blaze for outer parts. I sprayed shimmer spray on the background and dabbed excess off with a paper towel. This gave a bit more texture to the background.
I added acetate film behind the frame for added stability, then foam mounted it in top of the ink blended background.
For the flowers, I used the Build-a-Flower Hibiscus stamp set and used the same inks for the layers, but skipped the pistil because I wanted to give it a more graphic look and feel.
The leaves are from the Wild Ferns stamp set, inked with colors from the Green Valley crisp dye ink collection: Grassfield, Shadow Creek & Mountain Pine.
The sentiment is from the Many Thanks sentiment stamp set. I stamped it with Pure Graphite crisp dye ink (Rock Collection) and clear heat embossed it twice. I made this a thank you card because this card would eventually be part of a card set that I plan to give to my mom. I think she would really love a set of cards that were inspired by her garden. I also added some shimmer to the flowers with a Nuvo Shimmer Pen.
If you are afraid to use colors in your project, the Color Your Day class at the Altenew Academy is sure to inspire you. Therese breaks it all down for you and in the end, you will feel confident with using colors in your creations.
I hope you were inspired by my project. Have a wonderful holiday season!
'Til next time!
❤️
Anna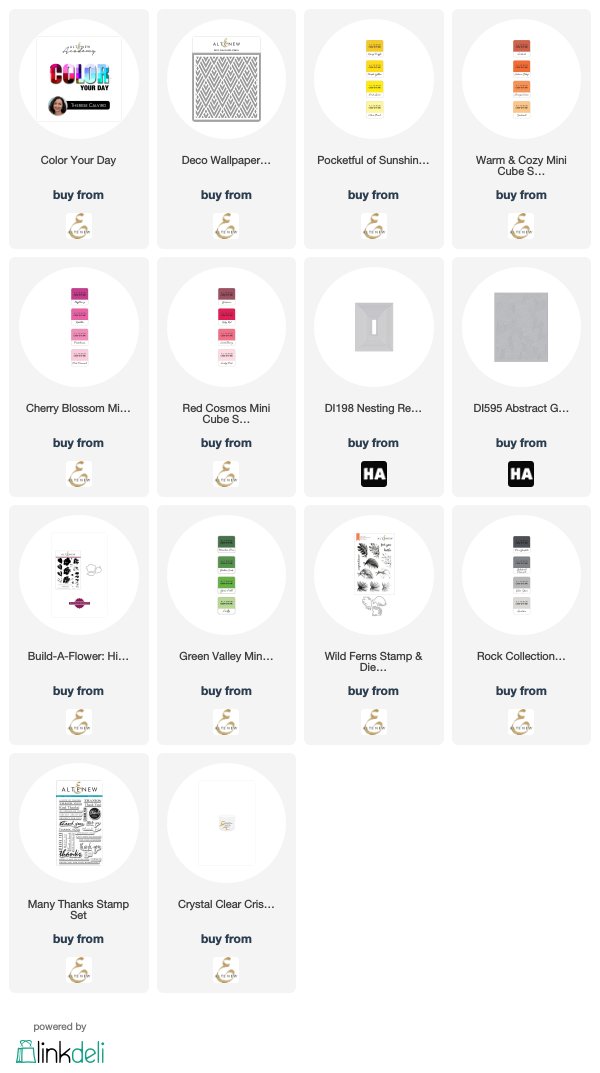 Note: I am affiliated with some online stores including Altenew, Concord & 9th and Hero Arts. If you use any of the links above, I get a small commission from these wonderful shops at no extra cost to you. Thank you for your support!