I absolutely love the look of alcohol ink backgrounds, but no matter what I do, I could never get it to work out for me. It's a good thing I didn't throw out these "failures" because now I found use for them – the die-cut inlay technique!
Here are a few tips for inlaying intricate designs. The Fine Line Floral dies from Concord & 9th are perfect for this technique.
First I die cut the flowers from the alcohol ink backgrounds. As you can see from the photos, these backgrounds dont look like much. To keep the little pieces from getting lost, I lay them out on a post-it tape. You can also use a wide washi tape if you dont have post-it tape.
I also die cut the same floral and leaves die from black cardstock, but discarded the inside bits as I wanted to do a reverse inlay.
To piece everything together, I used a thin clear plastic and ran tape adhesive over the surface. Then I placed the black die cut outline on top of the adhesive surface and proceeded to piece the inside of the floral die-cut with the alcohol inked ones.
The reason I used thin clear plastic is that I wanted the finished pieces to be flexible. Had I used cardstock, the flowers and leaves would look too stiff.
After piecing everything together, I cut out the plastic around the die cuts. I set it aside so I could work on my card bases.
For the black background, I splattered white ink using Altenew Pure White Ink Spray. Then I heat embossed a border using the stitch stamp from the Stripes and Saying stamp set also by Concord & 9th. I heat embossed "thank you" also from the same stamp set. I did the same on the white background but did the opposite, black splatters and black stitch border etc on white base.
I then proceeded to layout my elements, using the alcohol inked outline of the flowers on the black background and the inlayed flowers with black outline for the white background. I adhered them all with liquid glue.
I mounted them both on contrasting card bases to create a border frame.
I'm so glad I didnt throw out the alcohol background fail – you never really know when you can make success out of a failure!
Hope you give this a try!
'Til next time!
❤️
Anna
Supplies: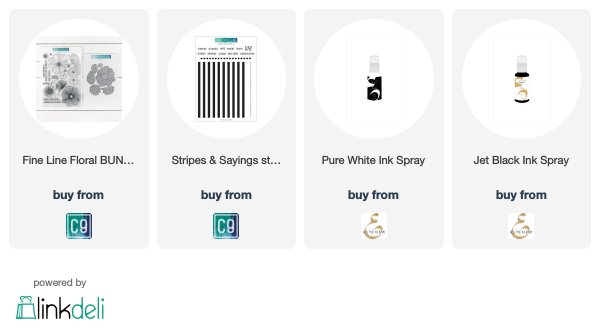 Disclaimer: I am affiliated with some online stores including Altenew, Concord & 9th and Hero Arts. If you use any of the links above, I get a small commission from these wonderful shops at no extra cost to you. Thank you for your support!