Sometimes my crafting mojo takes a vacation without me and I find myself at a loss on what to create.
I sat on my couch, contemplating on my next project, and as I moved over to adjust the throw pillows behind my back, it suddenly hit me! I found my inspiration!
Funny, how something so simple as a couple of throw pillows can be an inspiration for a card!
For these cards, I used the Beautiful Day stamp set from Altenew. I stamped the outlines of the flowers and leaves with Memento Tuxedo Black Ink. For the flowers, I used the wonderful teal colors from the Sweet Dreams Crisp Dye ink collection also by Altenew — Dew Drop for the base, Aqualicious for the 2nd layer, then Teal Cave for the final layer. As for the leaves, I used the grays from the Rock collection, Limestone for the base and Silverstone for the accent layer.
I used a beautiful teal card stock from Hero Arts called Hero Hues Adriatic as my card base. I then splattered it with white acrylic paint to give it that extra interest. Then to "frame" the flowers, I die cut shiny silver cardstock using the Fine Frames Rectangle die from Altenew.
I then separated the two inner layers of the frame and used them for the card pictured above, then for other card, I just used what was left over leaving it whole. I thought this gave the flowers a nice frame to sit on. I then matted both panels with the same silver cardstock I used for the fine frames, making a thin border to match the die cut frames. I then mounted it on a light gray card base.
Now I know that whenever I need to be inspired, I don't have to look very far!
Thank you for stopping by.
'Til next time!
❤️
Anna
Supplies: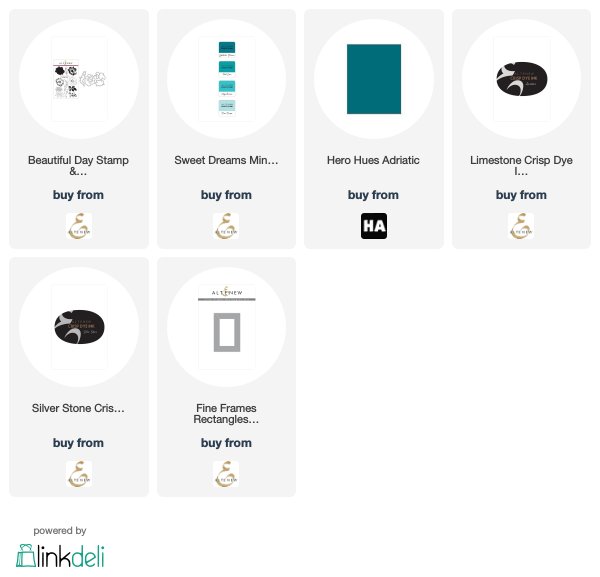 Disclaimer: I am affiliated with some online stores including Altenew & Hero Arts. If you use any of the links above, I get a small commission from these wonderful shops at no extra cost to you. Thank you for your support!