When Onlinecardclasses.com announced a card class using one of my favorite stamp companies, I immediately jumped at the chance to participate!
Day 1 : Wood stamps
Unfortunately I do not own any woodblock stamps but this class has taught me to appreciate its "old world" craftsmanship.
Here is the first card I made using a technique Kristina Werner taught us – – stamping on a heat embossed element but using a clear stamp. I pulled out the February 2019 my monthly hero kit for this technique.
For this card I heat embossed using a clear stamp as a decor element on my card. This gave it that extra oomph! that it needed on an otherwise simple card. For the background I used one of the cling stamp add ons from the kit. It's so beautiful!!
Here is a closer look at my card.
I am also entering this card in the A BLOG NAMED HERO March 2019 Challenge.
Day 2: Clear stamps
The second day focused on clear stamps, with emphasis on the color layering stamps of Hero Arts. Luckily, I had a few of those!
Here are the CAS cards I made for Day 2.
For these cards, I used the color layering Hibiscus and the color layering Sea stamps. I used the HA ombre inks to the layers of the sea. The background is the Abstract Texture cover die also from Hero Arts.
Day 3: Background stamps
The third and final day, an off-set stamping technique was taught using background cling stamps. For this card, I used the Hero Arts Pearl Strings and Bubbles cling stamps. The underwater creatures and elements are from the HA MMH March 2019 kit.
If you are interested in learning the techniques I used in all these cards, you can find them at http://www.onlinecardclasses.com.
Thank you so much for stopping by!
❤️
Anna
Supplies: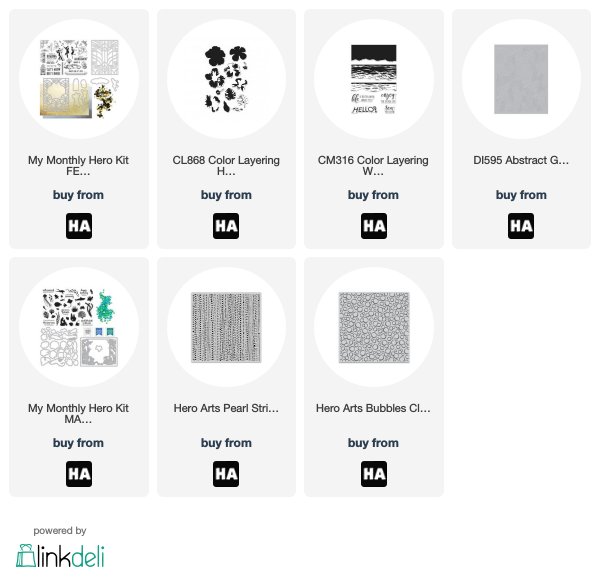 Disclaimer: I am affiliated with some online stores, including Altenew and Hero Arts. If you use any of the links above, I get a small commission from these wonderful shops at no extra cost to you. Thank you for your support!