Hi! It's time again for the next ATSM: Make Your Mark challenge. My inspiration for you is a card I made using colored pencils to add oomph! to the image.
I was inspired by the recent class of Altenew, the AECP Beautiful Details class, given by Marika Rahtu. This is one not to be missed, specially if you want to add those special handmade details to your card to give it a little something extra. I was also very much inspired by Maria's talent and her story.
Here are a few tips on adding that little extra oomph to your watercolored images. This is specially helpful if you, like me, are always looking for ways to step up your watercoloring.
Here are some images that I stamped (with Antique Linen distress ink) on Canson watercolor paper. I used the Wallpaper Art stamp set and some images from the Focus on You stamp set (which i didn't end up using in my final card).
I watercolored them with Prima Watercolors – Tropical Collection. If you are interested on seeing my process on how I watercolor, I will link to another post here.
To add extra oomph and details to my images, I used Prismacolor pencils. For the leaves I used: Lime Green, Olive Green, Dark Green and Burnt Ochre.
Tip #1: Sharpen
Make sure your pencils are very sharp. I can't stress this enough. This gives you the ability to get into the nooks and crannies. This also helps in coloring in the detail – in this case the stem and the middle parts of the leaf.
Tip #2: Darken
Use a very dark color in all the nooks & crannies. If you don't have a dark enough color. I suggest use a color directly across from the color wheel (in most cases). So for this image, I felt the dark green was not dark enough. So I chose Burnt Ochre (which has a reddish undertone). Then I layered the green on top.
Tip #3: Lighten (your touch)
Use a very light touch when coloring. This enables you to build up color as you move along the image. Sometimes the problem with wax based colored pencils is that if you are too heavy handed, you will not be able to layer colors one top of another.
For the orange flowers, I used: Yellow Orange, Poppy Red, Mulberry and for the darkest, Tuscan Red. The darkest color has a red undertone which was perfect for the inner parts of the flower.
In the photo below you can clearly see the difference with or without colored pencil details. The flower on the top looks more dimensional and the one in the bottom, without the color pencil detail looks a bit flat.
I wanted to showcase the flowers I painted and colored so I kept the background plain and simple. I die cut the flowers with the coordinating die using the Mini Blossom die-cutting machine. I used two layers of the Gold Stream washi tape by Altenew on the lower part of a white cardstock panel. This washi tape is so perfect to add that pop of metallic gold on your card. I splattered some matching gold metallic paint from the Metallic Paint set before adhering my images to the card. Then I added an antique gold heat embossed "You are the Best" from The Best Sentiment stamp set which was a freebie sent to me by Altenew.
The AECP Beautiful Details class gives you many more tips and tricks to add beautiful details to stamped, watercolored or copic colored images.
I hope this inspired you to post your work over at the ATSM Make Your Mark Challenge. See you over there! I can hardly wait to see what you create!
'Til next time!
❤️
Anna
Thank you for visiting my blog. I truly appreciate it! You can also find me on Instagram, YouTube, Pinterest and Facebook.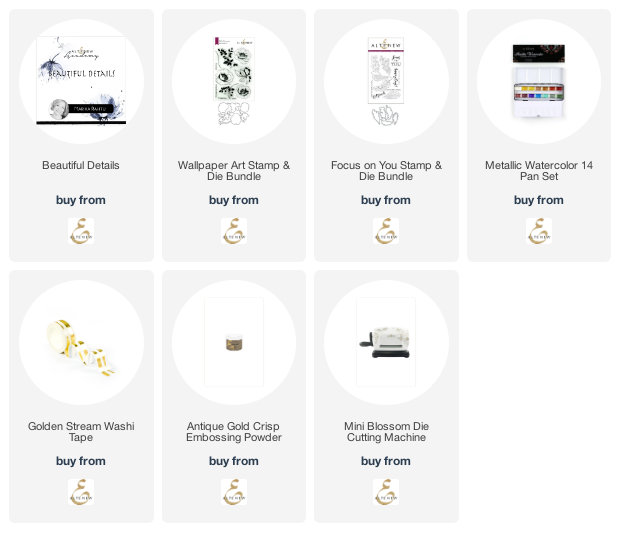 Note: I am affiliated with some online stores including Altenew, Concord & 9th and Hero Arts. If you use any of the links above, I get a small commission from these wonderful shops at no extra cost to you. Thank you for your support!