I just love the tranquil color palette of this ATSM Photo Inspiration challenge. The Altenew AECP In the Mood for Color taught by Stephanie Klauck is the perfect set of classes to take for these type of challenges. In the class, I learned how colors can depict different moods and how I can apply it to my cardmaking.
Lately, I have been a little obsessed with botanical illustrations. I purchased several KEW Botanical Garden Illustrative books on Amazon to feed my obsession. I know that I would probably never ever become a botanical watercolorist or illustrator but I did want to give it a try. I mean, why not, right? This is the card I created. I will be giving this to my mom for her birthday as she is a lover of plants and flowers. She runs our family farm which we had turned into a farm resort a few years ago. She's been a little stressed out lately so I am hoping this card will give her a sense of calm
Since I do not sketch very well, I thought of picking a floral stamp set that had the most realistic drawing of a flower. Botanical illustrations usually depict the whole flower in clusters with the branch and leaves included. I picked a beautiful floral stamp from Altenew, Dotted Blooms stamp set. I chose this because it had a lot of detail to it that I could follow along in my watercoloring.
Then I searched Pinterest for a photo that closely matched the mood board or photo inspiration above. This is what I picked out.
I stamped the main image in the stamp set with Distress Ink in Antique linen on watercolor paper.
My husband gave me Cotman Winsor & Newton Watercolors for my birthday a few weeks ago. I was eager to break it out and try it so I mixed three main colors in my palette, a pink (Cadmium Deep Red & Cobalt Blue), a mustard yellow (Cadmium Orange & a little Cerulean Blue) and a grayish brown (I just mixed several colors together to make a brown). I tried my best to match the colors in the inspiration photo.
Then I took a No. 4 Silver Black Velvet Round brush and proceeded to outline the flowers with the pink pigment with just the tip of the brush touching the paper.
Then I dipped my brush into clean water then dabbed it on a clean paper towel, then using a damp brush, dragged the colors out into the rest of the flower petal. I did the same for all the petals.
Following the mood board above I wanted to add a little of the mustard color on the petals, so I took the mustard yellow pigment, watered it down on my palette then brushed it lightly over the petals.
I proceeded to do the same technique with all the flowers and the stem. I got into a rhythm and before I knew it, I was done!
It's not perfect by any means but I was extremely proud of myself. So for those aspiring to create botanical illustrations, find a stamp set that has the most realistic looking flowers or plants, follow along, whether by paint, colored pencils or markers.
I wanted to keep the card clean and simple, just highlighting the image. So I cut it down with a stitched rectangle stax die from My Favorite Things and then matted it with gray cardstock, then mounted it on an ivory 4.25″ X 5.5″ card base.
I used the "Happy Birthday" sentiment from the same stamp set and white heat embossed it with Pure White Crisp Embossing Powder on the same gray cardstock I used to matte the painting. I used removable tape to mount it on the card, you know, just in case my mom wanted to frame it she can remove the sentiment. I hope that when my mom receives this card, she will feel a sense of calm and tranquility that I wanted to capture in this painting, specially in these challenging times.
This tutorial is part of my AECP requirement. If you are interested in the Altenew AECP program, you can check it out here.
See you over at the ATSM Challenge. I can hardly wait to see what you create!
'Til next time!
❤️
Anna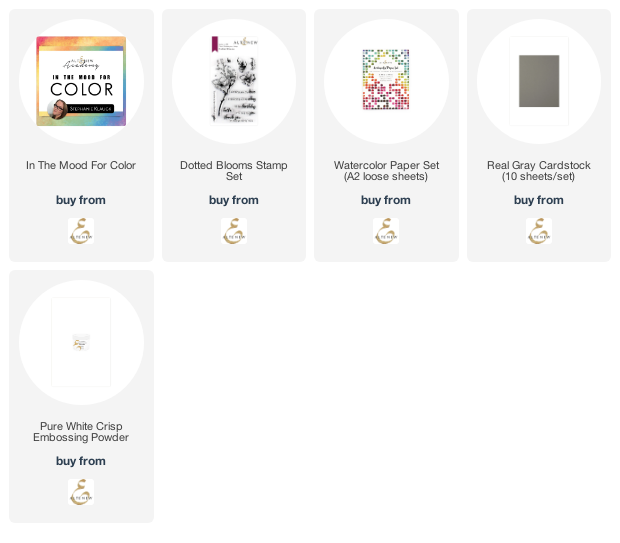 Note: I am affiliated with some online stores including Altenew, Concord & 9th and Hero Arts. If you use any of the links above, I get a small commission from these wonderful shops at no extra cost to you. Thank you for your support!