Welcome to another ATSM challenge. I, myself, struggle with CAS cards, you will see that if you follow me at all 😊
So, I challenged myself to create a CAS slimline card. A slimline card is a card that measures approximately 8.5″ X 3.5″ and fits in a standard long business envelope.
Since this card will have a lot of "white space", I wanted to use an embossing folder to create some texture on the background. So I experimented with the embossing folders I had on hand. I challenge myself to make it fit!
I die cut a card panel using the Trinity Stitched Slimline die. This set has three stitched dies varying sizes as well as panel die with three windows. In case you are interested in checking it out, I have listed it below, as well as other slimline card elements.
To emboss my panel, first I put the stitched card base into the embossing folder. You will see in the photo below that half of it is sticking out..that's OK. I then I run it through the die cut machine set to the sandwich of how I would use an embossing folder. Then I laid the folder with the edge of the paper facing the machine. Then I run it through the machine BUT stopped turning the handle before I reached the other end of the embossing folder.
I then reversed the turn of the handle of the embossing machine and removed the folder. If I had run it all the way through, the edge of the folder would emboss onto the paper creating an unsightly vertical crease.
To embossed the other side, I flipped the paper to the other side, lining up as best I could. Then proceeded to do the same.. stopping the turn of the handle before reaching the other end of the embossing folder.
This works best with folders that have irregular designs, but you can try also with those they have regular patterns if you are confident in lining up the pattern.
I used these embossed slimline panels as a backdrop to my card inspirations .
I used The Greetery Cozy Cup, Simple Things stamp set and Cozy Cup Coaster die as the design elements on my card.
Hope you learned something new! See you over at the ATSM CAS challenge!
'Til next time!
❤️
Anna
Thank you for visiting my blog. I truly appreciate it! You can also find me on Instagram, YouTube, Pinterest and Facebook.
Materials used: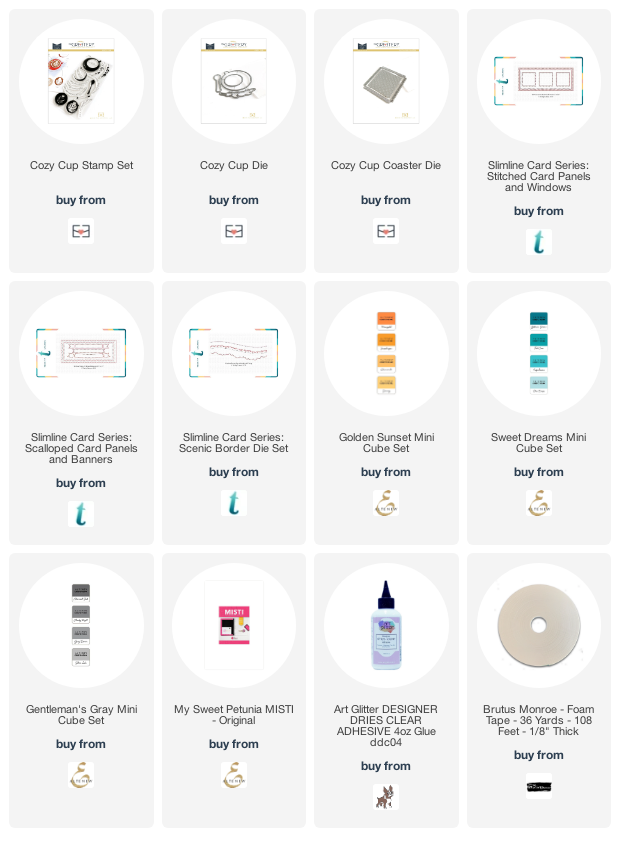 Note: I am affiliated with some online stores including Altenew, Concord & 9th and Hero Arts. If you use any of the links above, I get a small commission from these wonderful shops at no extra cost to you. Thank you for your support!