This month's challenge on the Happy Little Stampers blog is Watercolor with the optional Bling! You can interpret bling in many ways, I chose to add the bling on my cards by watercoloring with Nuvo Shimmer Powders. I love this product because its sooo easy to use and adds so much shine and shimmer to your project. Each bottle of shimmer powder has more than one color so when you sprinkle it onto your project and add water, you can watch the magic happen.
Here are the two techniques I used to create my card.
Technique #1: Sprinkle & Spray!
Tape down your watercolor paper on your mat or on a wooden board using painters or washi tape. This prevents the watercolor paper from warping. Pick your shimmer powder colors and sprinkle onto the paper. Do not sprinkle too much as these powders are highly pigmented. You can always add more to your paper later if needed.
Then, spray water generously onto the paper. You will see the color burst and move with the water.
Technique # 2: Shimmy on the shimmer
If you would like to watercolor an image, I would suggest using an image that has a lot of open spaces and preferably heat embossed on watercolor paper. The heat embossing helps to contain the paints and prevents it from bleeding into one another.
For this technique I used the Sweetest Peas stamp set by Altenew. I heat embossed the image with white embossing powder. I sprinkled Violet Brocade over the flowers and Green Parade on the stems and leaves. Then I took a watercolor brush and dipped it in a glass of clean water. I then shimmied my brush over the colors, taking care not to spread it around too much.
Then I took a paper towel and started to dab off excess water so the colors do not bleed into each other too much. Then I left it to dry.
After the panel was fully dried, I sprayed both panels with a fixative spray just to be sure that the shimmer does not rub off. I fussy cut the flowers. The orange and yellow panel will be for my background.
I die cut the Leaf cover die Frame by Altenew out of white cardstock. I adhered it on top of the yellow and orange back ground. I then inserted the flowers into the middle of the frame. I used foam tape on the middle flower for some dimension.
To finished off the card, I added some flat back pearls here and there for added bling.
Hope you enjoyed my tutorial and will give these shimmer powders a try. See you at the HLS watercolor challenge!
'Til next time!
❤️
Anna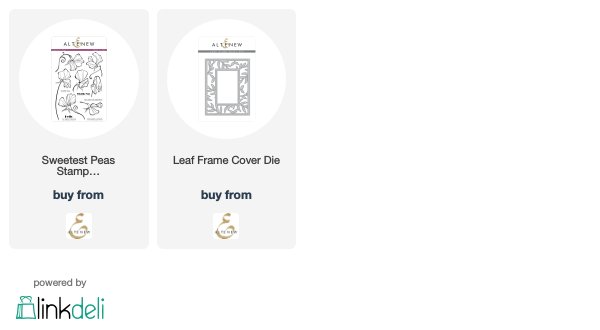 Note: I am affiliated with some online stores including Altenew, Concord & 9th and Hero Arts. If you use any of the links above, I get a small commission from these wonderful shops at no extra cost to you. Thank you for your support!