I really enjoyed the lessons in the AECP Creative Watercolor Media series, specially lesson 6, where the queen of rainbow cards, Laura Bassen, taught us how to "color" with re-inkers.
I do not have a wide variety of re-inkers but I thought that this same technique could also apply to the Altenew watercolor brush pens. These brush pens are highly pigmented, so a little goes a long way.
The technique involved a lot of water but I wanted to add my own twist to it. I chose flowers and leaves from the Sweet Rose Bouquet stamp set. There are three layers to the flowers and I chose the 2nd layer stamp because this stamp had enough of an outline to contain the different colors.
I made a template using Memento Tuxedo Black Ink on a regular piece of cardstock. I did this because I wanted to create several background panels using different colors of embossing powders.
Then to create my background card panels, I used watercolor cardstock and proceeded to lay each cardstock on my MISTI and stamped each flower element with Versamark Embossing Ink. I made four different panels with different embossing powder colors.
I took the watercolor cardstock panel with the Antique Gold Embossing and taped it down onto my glass media mat and laid out all the materials needed for this technique.
Before applying color, I applied clean water all over the panel using a wide watercolor brush. Then I used the watercolor brush markers to scribble color onto the areas where needed. I didn't stress too much about staying inside the lines!
I spritzed the whole panel with shimmer water spray and used a brush to move the color around and help fill in the white areas.
Then I dabbed off the excess water with a tissue. Then left the panel to dry. Do not be scared if it looks like a hot mess.. When the panel dries, it will start to look much better.
Then I left the panel to dry. I thought about using a heat tool but was afraid to melt the embossing. Here is what the panel looks like when its all dried. It pretty much looks like a hot mess!
Then to highlight the flowers and leaves, I scribbled off a bit of the watercolor ink onto a plate palette, and using a #4 brush, I colored in each flower in using a more concentrated Rubellite. For the leaf, I used the Moss watercolor brush marker to color it in. Doing this highlighted the elements from the background.
Then I left it to dry.
After the panel was all dried, I splattered a generous amount of Pure White Ink Spray by spraying it onto my glass mat first then using a brush to splatter onto the card.
To finish off my card, I cut the panel down to 5.25″X4″ and matted it with gold cardstock. I die cut a fancy "hello" out of matte gold cardstock. I also die cut another "hello" out of black cardstock and adhered it to the back of the gold sentiment off-setting it a bit to create a shadow effect to make it stand out from the busy background.
For the card base, I swiped versamark embossing ink on the side of a black cardstock and embossed the edges. I used a 1.5″ strip of vellum and created a border above an below using thin strips of gold and black cardstock. I adhered the "hello" die cut on top of the vellum strip. I then adhered my finished panel on top of the black cardbase with the gold edging.
Hope you were inspired by my project to give it a try!
I am looking forward to my next AECP lesson to further enhance my skills. I encourage you to check out the lessons at the Altenew Academy – offers great value for money!
'Til next time
❤️
Anna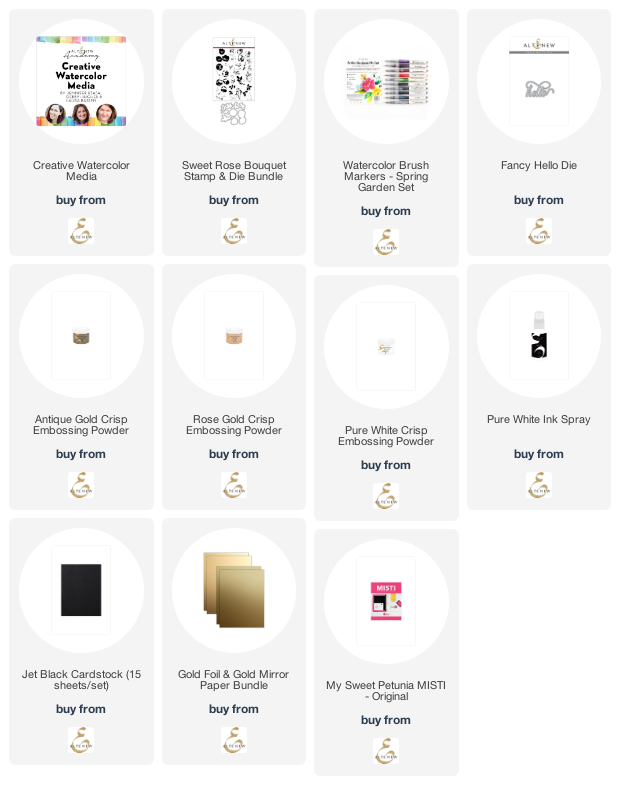 Note: I am affiliated with some online stores including Altenew, Concord & 9th and Hero Arts. If you use any of the links above, I get a small commission from these wonderful shops at no extra cost to you. Thank you for your support!