I took inspiration for this project from a lamp in my in-laws home. I liked the deep contrast between the background and the flowers. I thought that the inlay technique I learned from the AECP Easy Die-cutting class would be perfect for this!
I took black cardstock and created my own background pattern using the Ornate Foliage stamp set. I used a MISTI stamping platform so I could create several cards at one time. For the red cardstock, I used the Altenew Antique Gold Embossing powder and on the black cardstock, the Rose Gold Embossing powder.
Then I proceeded to die-cut the cardstock one flower at a time, taking care to keep all the tiny pieces in a bowl. In order to keep everything in order, I placed the die-cut pieces on top of a scrap of typing paper.
By organizing it this way, I can keep track of all the pieces. After die-cutting and interchanging the background, I then proceeded to glue it to the typing paper.
For the sentiment, I used the Tall Alpha die set. I cut out four layers for each letter and glued them together to create dimension. Then I heat embossed two layers of embossing powder to match the cardstock.
I cut one inch off the bottom of the stamped panel, then cut off another 3/4″ which I discarded. To create more stability, I put acetate between because I wanted to foam mount the panel on to a contrasting card base.
For the sub sentiments, I used sentiments from the Simon Says Stamp tiny words and tiny words christmas stamp set.
Here are more cards I created using the same technique.
For the cards above I used a light gray and dark gray cardstock. I used silver embossing powder on the dark gray and gunmetal embossing powder on the light gray.
For this I used Old Rose and a cream color cardstock. Rose gold embossing powder on the old rose cardstock and copper embossing powder for the cream.
I really enjoy inlaid die cutting. It's a lot like doing a puzzle and it's so satisfying when pieces come together. To learn more about this and other die-cutting techniques, check out the AECP Easy Die-cutting class given by the talented Yana Smakula (linked below).
This completes nine classes for Level 1 of AECP. I look forward to my Level 1 final challenge. Watch this space!
'Til next time!
❤️
Anna
*This post is dedicated to my youngest brother, Carlos Celdran, who passed away on October 8, 2019. He was an artist, cultural activist and a performer. He was many things to many people but he will always be my baby brother. Rest in peace. Your memory will live on in our hearts forever. Love you ❤️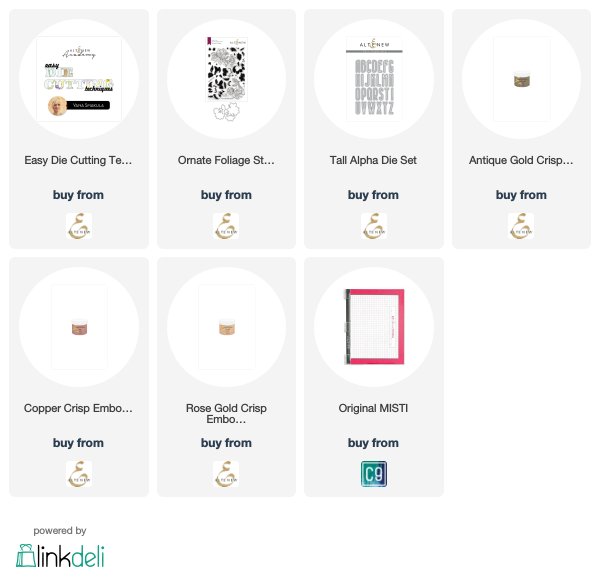 Note: I am affiliated with some online stores including Altenew, Concord & 9th and Hero Arts. If you use any of the links above, I get a small commission from these wonderful shops at no extra cost to you. Thank you for your support!