If you follow me on Instagram @craftyannastudio, you will know that I do struggle a bit with Clean & Simple (CAS) cards. The one thing that AECP has taught me is that you don't have to add too many elements to your card in order to make it stand out.
Here is a simple tutorial to step up a CAS card and at the same time replicate it easily.
The first step is to choose your stamp set with a large stamp surface, usually the base layer of floral stamp sets work as well. I used the Billowing Blossoms stamp set that Altenew gifted to me two years in a row. Other stamp sets from Altenew can work as well which I will show at the end of my post.
I lay out my placement first by stamping on scratch paper with black ink. Once I'm satisfied with my layout, I start planning my ink color combinations. Making this template layout enables you to replicate this card again and again.
Place your cardstock on your stamping platform, in my case I use a Misti. Then lay the scratch paper with your layout on top, place your stamp on top of the pattern then close the door to pick up the stamp. You can now ink up your stamp and proceed to stamp. Don't forget to remove the scratch paper before stamping. Tell me how I know!
NOW here is how you can step up your game, after stamping your base color, choose a slightly darker shade of color than the base, dab the middle area of the stamp then dab the edges of the inked image with a dry microfiber cloth to soften. I did the same for all the flowers and leaves as well. The colors I used are: Pink Pearl and Heartbeat (Tea Party Set) for the pink flower, Buttercream and Caramel Toffee (Summer Afternoon set) for the yellow flower, Sunkissed and Orange Cream (Warm & Cozy set) for the orange flower. For the leaves I used Bamboo and Olive (Tropical Forest Set). Ink cubes work best with this technique, but you can try using the edges of your full size ink pads.
You can now proceed to add details to the stamped images with a fine tip black pen. I used a Tombow Mono drawing pen. The thank you sentiment was stamped using Versafine Onyx Black Ink using the Many Thanks stamp set.
For more details on this, check out the Altenew Academy Clean and Simple Boutique Cards class linked in my supply list below.
You can also check the video below as I updated the technique using sponge daubers:
Here is another card I made using the Altenew Ditsy Print stamp set. This stamp set already has sketchy outlines but I wanted to make it my own. Instead of stamping each flower individually, I used the same technique above but stamping it over all the flowers to achieve the ombre look. I achieved the same floral layout on the top and bottom by rotating my paper on the Misti. The flowers on this card are smaller so I used a black .05 micron pen to sketch the details on the flower and the border to give it a frame. I then personalized this note card using the stamp I received as a gift from Altenew, masking off the "Handmade by". This is a single panel notecard with the empty space in between the flowers to write my note.
Hope you learned something new.
Thank you so much for dropping by!
'Til next time!
❤️
Anna
Supplies: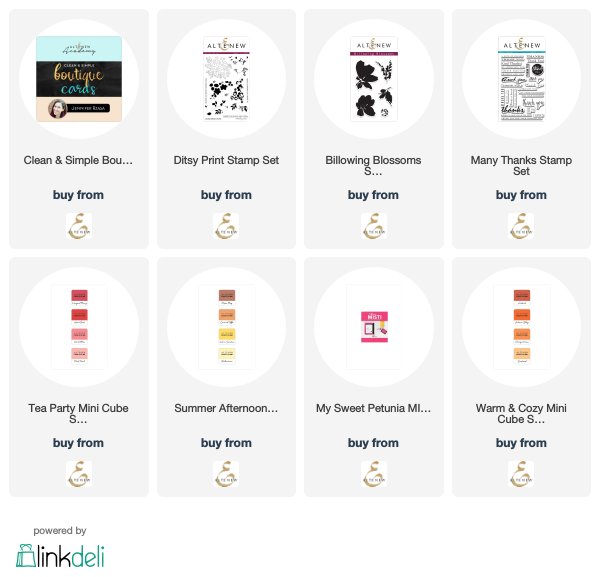 https://linkdeli.com/widget.js?1552642647875
Disclaimer: I am affiliated with some online stores including Altenew & Hero Arts. If you use any of the links above, I get a small commission from these wonderful shops at no extra cost to you. Thank you for your support!